Posted by Usha Balasubramaniam in Guest Blog
on Aug 21st, 2013 | 0 comments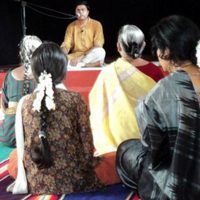 My understanding of online Carnatic music classes was that it is all about Skype. When I looked up the Kalpavriksha Online College of Arts site, I was in for a pleasant surprise. Here was one portal which has taken e-learning of performing arts, especially music to the next level. I was very impressed with the way the courses had been laid out. Though I had learnt some music (upto varnams which are sketchy now) I thought it would definitely a great opportunity for me, being located in Pune, to take Carnatic Music lessons from a star faculty.
Looking up the various options I decided to enroll into the Concise introduction to Karnātic Music 6 month certificate course. Their enrollment form submission and secure payment gateway went smooth. I record my experience with questions as heads. (Screenshots are taken from learning portal-www.kalpavrikshaonline.com. T V Ramprasadh's photo borrowed from Team eAmbalam's collection)
How do we go about it? As you decide about your course of choice, you can enroll and pay up for the course. The support team then takes over confirming your payment transaction and giving access to the learning portal. Of course, we all worry about the technical aspects. The technical team makes sure one is able to enjoy an issue free access to the course.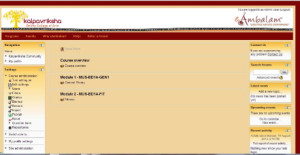 What do we do inside a learning portal? We are at first given a username and password. With that one can view the self study material of the chosen course. To make it simple it is laid out module wise. We can watch the videos, take up assignments at the end of every chapter and download study materials in the form of PDFs. True to the promise laid out in the portal, I found out that there was a very good balance between practice and theory.
What is the support system for the content? Well, there is an exhaustive glossary, a phonetic chart to assist pronunciation, a custom made online shruthi box and also audio downloads for practice.
How do we connect to the teacher? One can record oneself and submit it for review. Depending on the course intensity Meet Your Teacher sessions are arranged periodically. In these one can clarify doubts, take corrections and other related guidance from expert teachers. In mine I got as many as 24 sessions. As a student we are entitled to access the archive of classes also. We can see our grades, send and receive messages from teachers and schedule classes with prior discussion.

What is special about learning Karnatic vocal at eAmbalam's Kalpavriksha? One becomes a fit musician! In music, the student needs to learn a module of fitness and yoga in the beginning of the program. Also for those who are in various stages of learning there is the exclusive 8 week Yoga for Musicians course to benefit from.
Can I interact with my course mates? Yes, the student can participate in forums, create one's own blog, write an article for the community portal and keep in touch with eAmbalam news.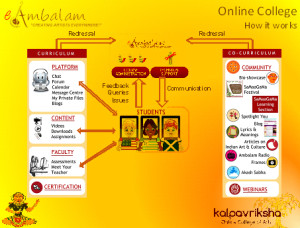 What if one wants to learn instrumental? Is there a Hindustani instrumental or vocal option? It is interesting to note that Karnatic instrumental as well as Hindustani instrumental or vocal options are available in a one to one web conferencing mode as in Skype in a special section called One to One Virtual Classes.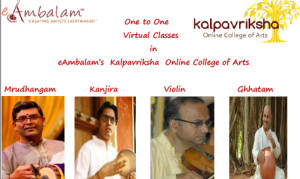 What if one is not keen on a certificate? There are certified courses and courses which a student can take for art's sake – without certification.
Since I was keen on one, I completed the final assessment with the faculty and got mine signed by the stalwart faculty at eAmbalam's Kalpavriksha. What kept me attached to the course was the convenience of it. One can learn from anywhere anytime. The course continued as I travelled. I had access to my teacher through the planned sessions. Since the e-learning platform is customized to the course and student, my assignment submission and interaction with anyone in the college was maintained. Since the entire concept centered around efficient teaching without compromise on tradition, though online, my learning was optimized.