Posted by Usha Balasubramaniam in Music, Online Courses
on Jul 26th, 2013 | 0 comments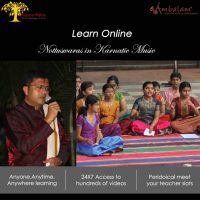 The Nottuswaras are the finest example of Carnatic music adapting to western influence. These are composed with Sanskrit lyrics on the Western C major scale, whose pitch intervals correspond to the Shankarabharanaraga. These simple melodies were inspired by Scottishand Irish tunes. The lyrics (sahitya) are entirely Indian and devotional.
This exchange of musical ideas was encouraged, when Baluswami Dikshitar, the younger brother of Muthuswami Dikshitar, heard the violin being played by British bands in colonial Madras. It made such an impression that he adapted it into Carnatic music. Such a liberal attitude and intellectual honesty characterize the evolution of Carnatic music. When they found something inspiring, they added to the repertoire without diluting the traditions.
In this course we teach you three famous Nōṭṭuswaras – Śhakthi Sahitha Gaṇapathim, Śhyāmale Mīnākṣhi and Rāma Janārdhhana.
Enroll Now @ http://www.eambalam.com/kalpavriksha/courses/online-carnatic-courses/nottuswara-carnatic-music/3/1/1/2