Posted by Usha Balasubramaniam in Guest Blog
on Jun 3rd, 2013 | 0 comments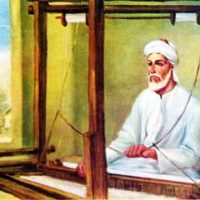 'The Untellable Story'
–  Compiled by Team eAmbalam with the Performers
About: Akatha Kahani is a song, story and dance presentation on Kabir, 14th century mystic poet and radical thinker.
Description: You don't meet Kabir. He happens to you. Mystic weaver, radical poet, social thinker, synthesizer of religions… we call Kabir many things but he uniformly calls us all "Sadho", "O good ones" and invites us to listen to his truths. And when you have encountered the 14th century mystic poet in the space of his song, there is no telling where he will take you, what he will show you and what he will inspire you to do. It is rather inexplicable- this alchemy between Kabir and a willing listener, this anachronistic meeting between you and a poet from a very distant past  (Photo courtesy – farzana.wordpress.com).
Akatha Kahani or untellable story is a presentation on Kabir, where three sisters attempt to showcase this special alchemy between Kabir and his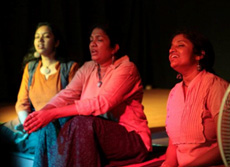 listeners by sharing their individual encounters with Kabir. One wrote a book for young adults, another sings his songs passionately and yet another expresses Kabir's impact on her through Bharatnatyam. Akatha Kahani, the song, story and dance presentation features Jaya Madhavan, author of Kabir the weaver poet book, Bindhumalini, a singer trained in both Carnatic and Hindustani music and Archana, a Bharatnatyam dancer and French translator.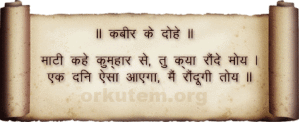 Punctuated with personal sharing, excerpts from Kabir the weaver poet, and abhinaya for select padas, Akatha Kahani's pivot however is Kabir's songs (as sung by Kumar Gandharva), which the three sisters sing together as an impassioned plea in order to evoke and approach Kabir, the sensitive, sensible and spiritual being present in all of us. (Photo courtesy – www.orkutem.org)
Report on Akathakahani presentation during SaMaaGaMa 2012 – "This untellable story is a presentation on Kabir, where three sisters attempt sharing their individual encounters with Kabir. True to their innate respective talents Jaya – the writer, Bindhu – the singer and Archana-the dancer succeeded in combining all three concepts to take Kabir to the hearts of the audience. Their promise to combine many seemingly incompatible philosophical and mundane thoughts of Kabir and deliver it in a theatrical presentation was fulfilled in the sylvan settings of the park." – Vidyalakshmi Venkataraman
Gallery of the performance
At eAmbalam in house auditorium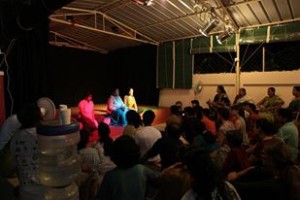 At Nageswara Rao Park, Mylapore, Chennai in SaMaaGaMa 2012