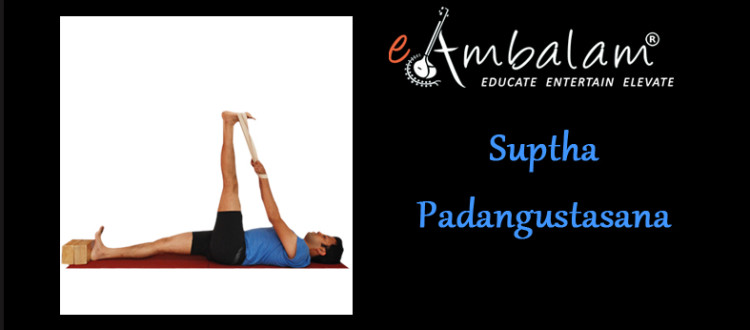 Free Online Sample Session – Yoga – Suptha Padangustasana
Yoga is fundamentally a systematic way of life  backed by a healthy attitude.  To achieve this, there are  simple physical exercises known as Asanas &  techniques that help us control the mind through the control of the breath, known as Pranayama. It is a self-development technique for body and mind. Everyone, irrespective of your age and physical fitness levels, can now aspire to get maximum benefit from eAmbalam's unique yoga online courses. This can be taken by anyone of you interested in learning Yoga at your convenient time & place.
Students are provided with high quality Step by Step learning videos by watching which they learn the lessons and present the same during one on one online class with the instructors to enhance their learning.
The course is divided into two parts – Level 1 and Level 2.
Level 1 has basic warm-ups & stretches, Pranayama & Asanas.
The course
Describes the Meaning of Yoga & benefits of Yoga in brief

Describes & demonstrates the importance of warm-ups and stretches before exploring the regular yoga lessons.

Demonstrates different types of simple Pranayama and Asanas in Level 1

Explains the meaning of every Asana & demonstrates the complete Asana step by step

Demonstrates the Asanas using props

Highlights the common mistakes done & correction of the same

Aims at making Yoga, a part of your daily routine!
The course duration is for 12 weeks with 12 one to one online sessions with the teacher. If the student wishes to extend the course duration, they can do it by paying a minimal fee. They could write to admin@eambalam.com for more details.
This course is for you if
you are a beginner interested in learning Asanas and Pranayama

you do not have any Yoga teachers in your vicinity

you do not have time to travel and you like to do the course in your own convenient time and place
Before you begin the course, read about introduction to Yoga, Benefits of Yoga, General instructions & Caution.
Happy learning at eAmbalam!
Sign In
/
Sign Up
OR