Posted by eAmbalam Administrator in Dance, eAmbalam Musings, Home, Others, Past Events, Wellness
on Jan 17th, 2014 | 0 comments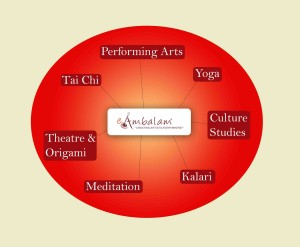 To complement quality training in Indian classical performing arts training, especially, Karnatic Vocal and Bharathanatyam by leading performers and guidance by stalwarts, eAmbalam has a specialized wellness resource wing to cater to the students and performers of the artistic genres. Regular sessions are conducted with these specialists.
Yoga at eAmbalam
SaMaaGaMa 2011
"Dancers of all ages waited eagerly for their turn in the morning Yoga workshop by Renjith Babu, assisted by Vijna Vasudevan. They were so happy to explore the possibility of Yoga enhancing their dancing potential. Renjith continued to teach the intricacies of yoga required for dancers. Vijna explained the techniques and movements alongside."
"Renjith Babu beautifully guided those assembled for the morning Yoga session, towards understanding how it helps music if they knew the right breathing techniques. Renjith continued to teach the intricacies of yoga required for musicians."
SaMaaGaMa 2012 – "Renjith Babu is still popular from his last year's workshop at SaMaaGaMa. Being a dancer and a yoga instructor, it comes naturally to him to impart those lessons in Yoga which are useful for performing artists. "
"His selection of Asanas are unique to those in the dance field mostly and some common ones to the musicians as well."
"The general public too enjoyed the Yoga workshop in the pleasant morning as Renjith took them all through Pranayama, stretching and selected Asanas to tune their body and mind in unison."
Meditation at eAmbalam
To promote better artistry among the performers of Indian music and dance genres, eAmbalam has strived to involve experts in the process of meditation guidance and practice. Team eAmbalam underwent a planned meditation training session under the guidance of Dr. Shilpa Pandit and also engaged her to interact with the public at large in our mega event – SaMaaGaMa, consecutively.
A trained psychologist, counselor and academician Dr.Shilpa Pandit has a deep interest in Indian philosophy, performing and fine arts while being a committed meditation practitioner. "In SaMaaGaMa 2011, Dr. Shilpa spoke about Rasa and its deeper implications on our mind. This was an educative, interactive and interesting session as she shared some aspects of her research findings with the musicians, dancers and laymen gathered there."
SaMaaGaMa 2012
"Shilpa Pandit with her psychology training and counselor experience brought in a new wave of thinking among the people gathered to know about art and its relation to our lives as also meditation and its importance. Both the sessions were interactive and brought forth interesting insights from the participants. Shilpa summed each concept discussed and brought out the essence of art and its influence on our personality and growth."
"In the meditation session, crystallizing the inputs of the participants, Shilpa guided them to go within and identify their points of concentration. Both workshops were enriching in their content and participatory methodology."
Tai Chi at eAmbalam   (SaMaaGaMa 2012)
"Tai Chi is more suited to the sedentary lifestyle most of us have" is Tai Chi teacher Ranga Rao's assertion. In the workshop at SaMaaGaMa, he explained the basics of this martial art and emphasized on it being able to cure many diseases. As he guided the participants of different age groups, Ranga was able to impress upon them the necessity to incorporate Tai Chi into their daily routine. In this martial art, the mind plays a prominent role and dictates every movement and T. V. Ranga Rao's Tai Chi workshop gave a glimpse of how one could achieve this."
Kalari presented by eAmbalam
Workshop on Basic techniques by Vasant Kumar at SaMaaGaMa 2012
Vasant Kumar learnt Kalari initially from Shaji John, at Spaces, Chennai and advanced his knowledge of the martial art under Sunil Kumar of CVN Kalari School, Kerala. Vasant is also a trained Bharathanatyam dancer with knowledge of Contemporary dance, Silambam, Acrobatics and Yoga.
The workshop gallery
"The ancient Indian martial art of Kalari originating from Kerala has many people in awe. Vasant Kumar and his team demonstrated some preliminary physical exercises done in the initial Kalari training. He also demonstrated the eight different stances based on animals like elephant, horse etc. Useful defense and attack movements were shown for the participants. Vasant also explained about the various weapons used in Kalari. The workshop gave us a glimpse into the handling of our body and some weapons according to the traditional Indian martial art of Kalari."
                                                          Theatre workshop at eAmbalam
Lucrezia is a Bharatanatyam (Indian classical dance) and drama artist, teacher and scholar based in Italy. She conducted workshops titled Playing Theatre, on western theatre techniques for eAmbalam. These workshops offered a taste of the beautiful world of theatre and helped participants to discover the communicative possibilities of the body.
Workshop at eAmbalam's in-house auditorium in 2011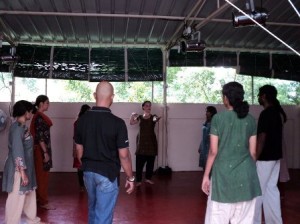 Workshop at eAmbalam's SaMaaGaMa 2012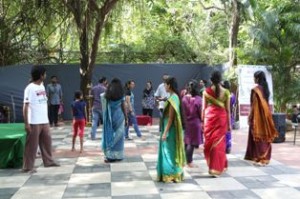 "In her well attended theatre workshop which drew all age groups, Lucrezia made them emote based on some scenes from Shakespeare's classic, A midsummer night's dream. The group goaded on by her let go and completely got into the skin of their roles."
"The audience was equally happy to see such intense responses from the participants who learnt simple theatre techniques from Lucrezia. She brought in her expertise in both European theatre and expression (Abhinaya) from Bharathanatyam into this and the response was encouraging."
Origami workshop by eAmbalam
Origami Society of Madras was founded 3 yrs back as a Facebook group by Karthik (who works for the R& D division of Hyundai Motors Private ltd. and Subash(who works as a Senior Business Analyst in Cognizant) It was a quiet day in Karthik's R A Puram residence that this idea struck them and thus OSM was born, It's only intent is to spread the art on a wider scale among school children and other arts enthusiasts of the city. OSM has conducted workshops in various city colleges including IIT Madras. They have been associated with Deepam NGO and have taken classes to lesser privileged kids in all their centers.
Workshop at eAmbalam's in-house auditorium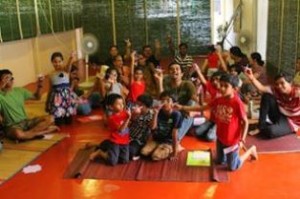 Workshop at eAmbalam's SaMaaGaMa 2012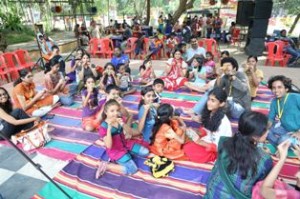 Credits:
Reports – Vidyalakshmi Venkataraman (freelance writer)
Photo Courtesy – Real Remembrance (eAmbalam's official photography team)