Posted by eAmbalam Administrator in Blog of the month, eAmbalam Musings, Guest Blog
on Mar 27th, 2015 | 1 comment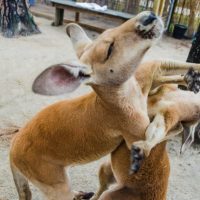 One cool evening midst the sweet breeze, my parents and I took a walk in the Montgomery zoo, Alabama, USA. The time was so apt; the Kangaroos were hopping around to reach their placements. We sat down near the hoppers.
Mesmerized by nature's beauty, I started singing Konnakol (Vocal Percussion).
Being a dancer and acclaimed Guru herself, my mother Smt.Chandrakumari Achutaramaiah was very much involved in synchronizing the movements of the kangaroos with my Solkattu. We were enthralled with this coordination.
Later I saw a few Kangaroos fell asleep.  Of all the hard work they also needed rest.
Then,I switched my mind from Taala Mode to Raaga Mode and I started singing one of my favourite Raaga "Chandrajyothi". I was exploring beauty of the raga through my Alapana and continued singing Sadhguru Thayagaraja Swami's "Bagayanayya" Krithi and out of my surprise, we saw all the sleeping kangaroos lifting their ears up and turned towards our side. Initially, we did not pay attention and thought it was a mere coincidence.
I started watching them to ensure whether their response is for music or something else. To verify, I moved to "Bantureeti Kolu" in the Raaga Hamsanadham yet another favorite of mine. I enjoyed the raaga thoroughly but this time the kangaroos continued sleeping; we were left confused that moment.
Again, I came back to Chandrajyothi Raaga and started singing my own composition –"Kailasavaasa". This time, the Kangaroos came back to the form started lifting their ears up uniformly and turned towards us.
When I was exploring and enjoying the vivaadi swaras (3 consecutive notes in the scale) in the upper octave, I could see all of them opening their eyes, lifting their heads up and looked at us.
Voila!! What a wonderful moment that was!! I felt blessed to cherish such an exquisite moment in my life.
It is so true that Music has no barriers at all.
A couple of questions were revolving around me,
Did they like Raaga Chandrajyothi and did not like Raaga Hamsanadham?
What made them to respond to Raaga Chandrajyothi? Is it due to the fact that it's a vivaadi raga?
I strongly felt that they liked both the raagas.
Hamasanaadham was soothing to their ears and they continued resting, while Chandrajyothi gave them a haunting feel made them to show a contrary response.
I was sure that kangaroos were enjoying music;
be it the vibrations which stimulate sensation in their ears.
be it raaga's power to attract the living beings.
be it the frequency of the sound.
be it a sound waves created from my music.
Anybody can be a listener to music, not necessary that it should be human or if human, only someone who knows or learnt Music.
Knowingly or unknowingly there are so many listeners around us.
An artist requires not only dedication and devotion during the performance but also has to know the art of communicating with listeners through his music.
It is the duty of the Artist to understand and closely monitor the audience and be a driving force to travel with them.
He is not just singing for himself but he is singing on behalf of everyone. He is being one united energy instrumental in linking of the jeevathma and paramathma thereby, making all feel the blissful state.
The count of the listeners does not matter but the few moments you ensorcell them and make them visualize the magic of music is what counts.
Here, My listeners were kangaroos, instead of hopping they were listening to me and responding. Each time they lifted up their ears it was like "Balay" and each time they lifted their heads up to watch me it was like "Sabaash".
It is this encouragement and enthusiasm that the audience show, accelerates the artist to continue his journey.
I was left speechless after I personally experienced the delightful response to music from nature.
It is all in the omnipotent power of the Naadhabrahma who has instilled this blessing of Music in every little cell in the universe.  It is in us to rejoice the magic of music amongst all the living organisms.
About the Author: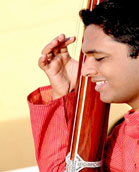 Vikash Achutaramaiah, a Multi-faceted Artist par excellence is a Software Architect by Profession. He has learnt Bharathanatayam, Kuchipudi and various Folk Dances from his mother "Natya Kala Ratna" Guru.Chandrakumari Achutaramaiah. He has been learning Carnatic Vocal from "Gaana Kala Shree" Guru.Sri.T.V.Ramprasadh. He is one among the few countable Jal Tarang Artists in the world and He is under the guidance of "Jal Tarang Mastero" "Kalaimamani" Guru.Anayampatti S. Ganesan. He is an energetic Harikatha Artist, an ace percussionist and a prolific composer (Vaggeyakara- who has composed several songs in 7 languages). Vikash has performed numerous concerts in India and USA since the tender age of 2.5 yrs and has been teaching for the past 12 yrs. He has won many prizes, awards & laurels from various organizations, elders and academicians.