Posted by eAmbalam Administrator in Blog of the month, Culture & History, eAmbalam Musings
on Mar 21st, 2015 | 0 comments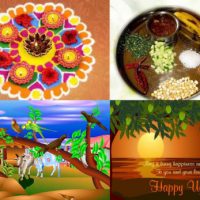 All Hindu festivals have their own significance and importance. Hindu culture has a rich heritage, with numerous festivals. Each celebrated festival throughout the year has its own distinct value and ritual practice. Ugadi is celebrated in many states like Maharashtra, Karnataka and Andhra Pradesh.
Ugadi marks the beginning of the New Year. It also brings happiness with the onset of Vasanth Ruthu (spring).
The History:
'Ugadi' is the day on which the universe was created. Yuga Aadi (Yuga + Aadi means beginning of New age), since on this day Shri Brahma created the universe and the Satyayug began, it marks the commencement of the New Year.
During Ramayana period, the New Year was being celebrated on the first day of Uttharayana. So, Chaitra was the 12th month. Varahamihira, a saint who lived in sixth century, started a new method of celebrating New Year on Chaitra Shuddha Prathipade. His calculation was based on the onset of spring. Followers of Chandramana system (Shalivahana Shaka), mostly living in southern states including Marharashtra, Karnataka, Tamil Nadu, Andra Pradesh and Kerala, celebrate Ugadi as New Year on Chaitra Shuddha Padya. But those who follow Vikrama Shaka system and also the devotees of Goddess Shakthi celebrate New Year on Karthika Shuddha Padya.
On Ugadi Day…
Preparations for the festival begin a week ahead. On Ugadi day, people wake up before the break of dawn; take a head bath after which they decorate the entrance of their houses with fresh mango leaves. Wearing new clothes, they offer Pooja for the God and pray for their health, wealth and prosperity and success in business too. Ugadi is the most auspicious time to start new ventures.
People consume Bevu (neem) and Bella (jaggery) on Ugadi day. The inner significance of this is to indicate that life is a mixture of good and bad, joy and sorrow, and all of them have to be treated alike. All experiences have to be treated with equanimity. Ugadi should be used for making resolutions to change our way of life. Leaving the past behind and starting afresh with positive expectation is one of the key aspects of Ugadi.
Let us begin afresh…
Ugadi also marks a beginning of new life with plants acquiring new life, shoots and leaves. Chaithra Masa (month) ends the shivering winter season. We see budding tender leaves, flowers and fruits; listen to chanting of birds and smell fragrance of flowers from distance. We find happiness booming everywhere. So, the earth will appear in a special delight. Naturally, it is the happiest day of the year.