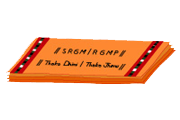 Find a treasure trove of lyrics of compositions with meanings, arranged in alphabetical order with facility for users to add their lyrics post too.
Users may use the widget to upload lyrics.
Users can utilize search options that take you to the right section.
Get instant updates, live streams, newsfeeds and broadcasts from social media pages of your favourite celebrity artists.

This page is one of its kind in the global internet scenario! We will compile and collate the Facebook updates and Twitter feeds of celebrities in the performing arts field in one page.

At one click, you will see what is it that your favourite artist/artists, idols and others are up to!
Have an artistic talent? Looking for a break? Submit a short video recording of yours and the best artistic talent will be showcased as the "Performer of the month". Participate for Free.