Spotlight You
Have an artistic talent? Looking for a break? Submit a short video recording of yours and the best artistic talent will be showcased as the "Performer of the month".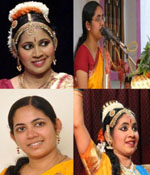 Singer & Dancer of the month !
- Ojaswita Chaturvedi
Ojaswitha has been been learning Bharatanatyam for the past six years from Srimati Kalamandalam Ajitha Majesh Lal at the School of Indian Dance and music, Gaborone, Botswana. The institution provides knowledge of various Indian artforms and is one of its kind in Botswana. She has passed grade 6 in Bharatanatyam (graded by external examiners) and completed her Rangapravesha. She has performed at many occasions in the country.
She has also been learning Kuchipudi for the past six years from Srimati Ajitha and has completed her Rangapravesha. Her training includes the specialization of dancing on the brims of a brass plate and sometimes balancing a pot of water on the head.
Dr Shastri is her Harikatha teacher and she has specialised using Srimad Bhagavata Mahapurana learning from him from the past five years. Under his tutelage, she has performed in many parts of India and Botswana.
Scroll of Honour

Aarthy Natarajan has been passionate about dancing right from her school days. She has completed her post graduate diploma in Bharatanatyam from...


At the age of Five, Shashwathi started singing at home, listening to her grandmother and her father. She started learning early lessons from Mrs....


Kuldeep with a Gold Medal in his Masters Degree in Indian Music from the University of Madras, Chennai is a true believer in Sangeetam, that which...


A Psychology post graduate, dancer Sreelakshmy's achievements and awards include

Chief coordinator (Concept and Coordination) of...


Started learning music from the age of three. His 1st guru was Sri S.Bashyam, 2nd guru was Shri P.B.Srirangachari and since 2008 is learning under...


Komala Kumari is a professional dance teacher and performer based in NYC. Kumari began dancing at the age of three under the...


The musically trained and talented brother-sister duo of Sai Charan Raju and Sai Sruthi Raju are creating their own flow of musical notes in...


Anapayini Jakupko - "Created a serene and uplifting mood.. clean lines and perfect footwork.. in complete control over the intricacies of Abhinaya....