Curtain Raiser
Information about different events in arts, culture and related fields are displayed here.
With one click you can get details of the concluded and current events in the performing arts genre and their venues.
If you, as an individual or an institution, want to be feature your events here, please mail to
events@eambalam.org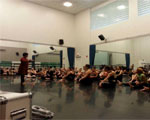 Learning - Around the world
eAmbalam's vision of "Creating Artists Everywhere" is continuously given shape by its founders T.V.Ramprasadh & Indira Kadambi.

Between August & November 2013, they embarked on an USA tour conducting workshops & lec-dems, most of them free, across many cities. Two such are featured in this write up.

Curtain Raised On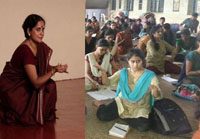 Dance workshop at Punaroor Viswanatha Swamy temple
Amidst the paddy fields and small hillocks is a beautiful temple in the Malnad region – the Punaroor Viswanatha Swamy temple in Mulki near Udupi. It is a calm and serene place resonating with sound of the temple bells and chanting of the manthras. It was here in this beautiful atmosphere that Indira Kadambi got to conduct an Abhinaya workshop for four days during monsoon.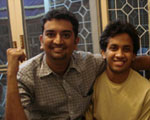 Origami Society of Madras
Subash Thyagarajan works as a Senior Business Analyst in Cognizant and is a hobbies freak. His varied hobbies include Origami, collecting stamps, coins , First Day covers and foreign currencies. He loves long distance cycling and has particpated in the Tour of Tamilnadu 2010 and 2011 editions. He has now taken up running and finished a half marathon in The Wipro Chennai Marathon.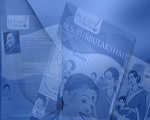 Pictures of Melody
Pictures of Melody, the first-ever pictorial series on Karnātic music legends by Lakshmi Devnath, a well-known researcher and writer in Karnatic music.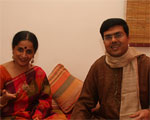 A little story on how a couple discovered it was possible to take traditional music and dance across borders
At a building nestled in a tranquil residential area of Besant Nagar, far removed from the boisterous beach-going crowd and with streets curiously named after rivers such as the Ganga, Cauvery and Yamuna, lies an inspiring story — on following one's heart. "I was introduced to music at the age of nine and gave my first concert at 11. My parents would sing bhajans in the house and those influences were indelible," says T. V. Ramprasadh, a trained Classical singer. "I went on to graduate in Cost Accountancy. I started my career in merchant banking, and after three years, I realised the world of stock market, primary issues, and price-earning ratio was not for me. I continued to give concerts and teach music, but the work pressure was too much. That was the moment of truth: I was 26 and married, but I had to follow my heart. I quit my job."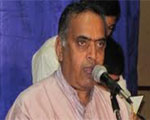 SHANKAR'S CONCERT
Vidwan S Shankar is a popular Karnatic vocalist is a performer for more than four decades. He is a top grade artist of A.I.R & Doordarshan. He is endowed with a sturdy voice & his rendering of raga is mellifluous & enthralling. Shankar has directed music for musical features, documentaries & dramas on A.I.R and DD. Among his many awards is the Karnataka Kalaashri, an honorary award of the Karnataka Sangeetha Nrithya Academy for 2008-2009.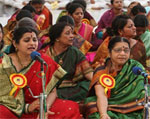 PARTHI YATHRA
Parthi Yathra was conducted second time this year where thousand devotees from the Sai organizations in and around Chennai district went to Puttaparthi on this Yathra. The highlight of the Yathra was the musical ensemble from Chennai comprising of fifty four vocalists and twenty instrumentalists consisting of Violin, Mridangam, Flute, Veena and Ghatam. They rendered Pancharathna Kritis of Saint Thyagaraja as part of their Parthi Yathra.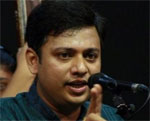 MADHURADHWANI 2013, SINGAPORE
The 3-day Music Festival, Madhuradhwani 2013 was conducted by Music Circle, Singapore between 1-3rd February. Prominent Musicians like Dr.M.Balamauralikrishna, Dr.Umayalpuram Sivaraman, Hyderabad Brothers, S.Soumya, Unnikrishnan and V.Shankaranarayanan were featured.