Posted by Usha Balasubramaniam in Dance, Online Courses
on Jun 25th, 2013 | 0 comments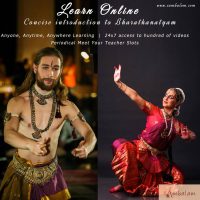 You may not want to be a professional dancer. You may not want to undergo years of rigorous training. But you may just be curious to know what Bharatanatyam is and want to learn very few footwork, body movements and very few expressions in a concise manner in order to appreciate the majestic beauty of the art form. Then, this course is just tailored for you.
You start at the basics and in six months reach a stage to learn a composition. The Bhedas (head, neck, shoulder, eye movements), hand gestures (Hasta Mudras) and Adavu (the footwork) would be covered in brief through AV and one-to-one teacher interactions so as to get a dancer ready for her/his first piece.
We, at eAmbalam over 25 years of experience, believe that if any dance course is combined with yoga then the learning is faster and better. Two traditional disciplines each complimenting the other – one for fitness at the physical and Bharatanatyam classes for the rigour of dance – makes for the moulding of young minds in the best possible way.
Enroll Now @ http://www.eambalam.com/kalpavriksha/courses/online-bharatanatyam-classes/concise-introduction-bharatanatyam/3/2/7/37