Posted by admin in Guest Blog, Music
on Mar 7th, 2013 | 2 comments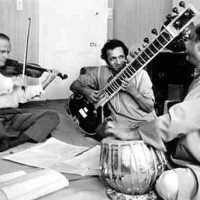 If you are one of the "oldies" who love to say that music nowadays is continuously plumbing the depth and often going into the realms of noise, you will understand when I say "those were the days".
As an afficinado of Carnatic music, a decade or two back was the time when you could see Carnatic and Hindustani forms' dominating influence in most of the filmi songs. Given that most of the music directors of the yesteryear had some kind of training in the classical form of music, the dominating influence was not very surprising. Fascinating, however, is how the western musicians were captivated by Indian music.
Around the 60's, Indian music start going round the western world. During this time there were quite a few rock bands who were experimenting with Indian music and Indian instruments. The credit for first popular "influence" song should go to Yardbirds' Heart full of soul (http://www.youtube.com/watch?v=RUkyI4MEsmI).
George Harrison was playing around Sitar more out of curiosity at the time when he decided to use it for the "different" sound in Norwegian wood. (http://www.youtube.com/watch?v=TY7iHzsy24k).
"Love you to" followed quite soon and this was a more serious attempt at Sitar. It is a Pièce de résistance , the Sitar, tabla adding a bit of mysterious something to that song. It is hailed as the first serious attempt of incorporating non-western music into Pop / rock. The lovely tune is almost like a riposte match between the singer and sitar. (http://www.youtube.com/watch?v=MF90rX43VpE)
Within you Without you, is another masterpiece from Beatles. In raag tilang this was a masterpiece not only for the music but also it has deep connotation of Indian philosophy. (http://www.youtube.com/watch?v=ljnv3KGtcyI)
What happened to all the influence and we are back in the present where music is more of a noise. Sigh!!! Those were the good old days!!