December, almost every street in Chennai hums Carnatic music. Amidst these traditional festivals, the two day performance and interactive workshop festival titled

SaMaaGaMa

provided a breath of fresh air to music lovers and was held at one of Chennai's oldest and greenest havens- the Nageshwara Rao Park in Mylapore and was also refreshing in its diversity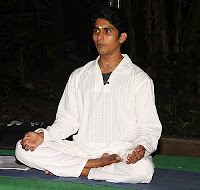 The first day started with Renjith Babu and Vijna Vasudevan partners in yoga, most important in life too, beautifully guiding those assembled for the morning Yoga session, towards understanding how it helps music if they knew the right breathing techniques.
When Vidwan Srimushnam Raja Rao had finished his very lively interaction with the registered participants & others who did on the spot, it was a smiling batch enriched with fine tuned concert techniques that walked out. Sanhita Nandi, a noted Hindustani classical vocalist, in both India & abroad had been invited by Ambalam. Her workshop on the popular Hindustani ragas & their treatment was educative and interesting.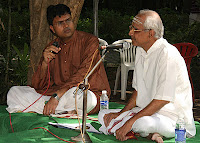 Mannargudi Easwaran taught each person the nuances of Pallavi.TVR was invited to sit alongside him and sing the notes as an example for all other listeners and students. With interesting acronyms like GOD BLESS U, he had the crowd in rapt attention throughout! Oliver Fox, the noted German saxophone artist

 

was in India on a visit supported by the Berlin Senate Cultural affairs. Oliver earnestly explained melodic approaches in western music to the select few and played heavenly sax. Vishnu Ramprasad, accompanying Fox, served as a perfect foil to his artistry, as he provided Guitar support to the workshop.
In the next day, Renjith continued to teach the intricacies of yoga required for musicians. People came continuously enquiring for P S Narayanaswamy's workshop. As he arrived and spoke on Beginners approach to Manodharma, it was a grateful group of students of all ages which noted down everything, the senior musician explained. It was a bonus that another senior artist T V Ramanujacharyulu added his valuable inputs to the workshop. As was the trend in the previous workshops of SaMaaGaMa, participants (including small children) were called on to the stage and made to fine tune their singing by these two patient greats!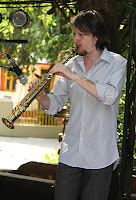 To understand T V Ramanujacharyalu speak on the Treatment of Telugu in compositions, a very eager group of Carnatic music enthusiasts were waiting in the far end of the park. As the senior violinist elucidated the subject in simple terms, each of them conveyed their thanks after the session as it truly enriched their knowledge.
V.Suresh came with his international troupe of artists and did the Joy of Rhythm workshop. Particular mention have to be made of Carola Grey – Drums ( Germany), Vasilis Sarikis – Frame Drummer (London) and Takaaki Kuno – Ghatam (Japan).The audience enjoyed every minute of the program.
– Vidyalakshmi Venkataraman