Posted by admin in Legends Series, Music
on May 29th, 2012 | 0 comments
T.K.Rangachari (1912-1979)
Resource Person: Sashi Kulkarni
Content Review: TV Ramprasadh (www.tvramprasadh.com)
Biography: Ashok Madhav(www.carnaticcorner.com)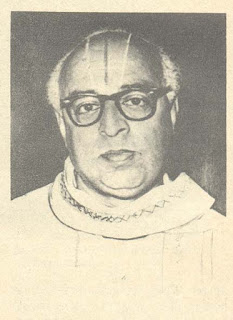 Among the illustrious galaxy of musicians of the 20th century, Tandalam  Krishnamachari Rangachari (TKR) has an honored place.  He was born in 1912 and his birth centenary is being celebrated at many centers of music in 2012.
 Endowed with a pleasant voice, he sang well till his last days. His concerts were always brisk and full of raga bhavam. His neravals and kalpanaswarams were great to listen and his swara-singing was based on sarvalaghu pattern. He had formal tutelage from Namakkal Narasimha Iyengar, who was also the guru of Ariyakkudi Ramanuja Ayengar. TKR also learnt music under gurukula style from Kotakanallur Subbaiah Bhagavatar.
He joined Annamalai University in Chidambaram and after a prescribed training he was awarded the title of "Sangeetha Bhushanam". He had the benefit of learning music under stalwarts like Sabesha Iyer, Ponnaiah Pillai and Sathur Krishna Iyengar. Then he was appointed to the faculty at Annamalai University Music Department. He worked there for almost 30 years and also later on at the Central College of Music, Chennai.
 Apart from dwelling on the time honored ragams, TKR did sing ragams like Sriranjani, Manji, Garudadhwani etc. His interpretations of these ragas were lively. He had the knack of making his concerts interesting and exciting. Luckily, a few recordings of this great master are available. He has composed a few kritis and Tillanas. His tillanas in Bageshri and Tilang are popular. He has set tunes to some pasurams of Divya Prabhandam.
TKR trained many students. Notably, Vairamangalam Lakshminarayanan used to accompany his guru in many of his concerts and  Lakshminarayanan  himself made a mark as a  concert artiste. TKR's another disciple Neyyatinkara Mohana Chandran became a Professor of music in a Trivandrum music college. Neela Ramgopal has also learnt music from TKR and has been a performing artiste, active in teaching in Bangalore.
He was honored by many music associations and he was awarded titles like "Sangeetha Ratnakara" and "Kalaimaamani" among others. He passed away in 1979. His musical legacy is being carried out by his daughter, Mallika Jayanth Kumar and his grandson, D.B.Ashwin.
 Sharings from Kulkarni:
Mention the name of TK Rangachari and what comes to mind is his fervent plea, halfway through an alapana in Nilambari. That must have been 60 years ago and he is perturbed at the way listeners' interests are getting diluted.
Have we proven his worst fears right and gone down that dreaded road further? Time to assess. Anyway listen to this peach of a song
 Amba Nilambari
TKR also gets synonymous with one particular raga – Ataana. The magic he conjures up with different krithis is on show here and his mastery is unmistakable.
IlaloPranatarthiharudanuchu – Ataana
NaaradaGanaLola Natha Jana paripala – Ataana
EPaapamu Jesithira Raama – Ataana
ElaNee Dayaraadhu Paraaku – Balakanakamaya – Ataana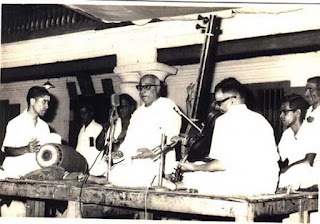 As one gets to hear more and more of TKR, it is quite evident that his presentations were a golden mean of many attributes – in a field of Art where the mean may not be necessarily artistic or palatable.His music had a pace which displayed a kind of canter – not too fast (and loose the import of the song) and not too slow (to make it an exhibition of skill).Sarasijanabha Sodari (Dikshithar) Nagagandhari
Disciples would pitch in at the right phases making it look a classroom on concert stage.
EndharoMahaanubhaavuluAndarikiVandanamu – Sri
Occasionally the creative artist in him would get into a dazzling mode – just like a peacock decides to open up.
 Hear him do wonders with MSG in
 

ThatwamerugaTharama para – Garudadhwani
and dousing the embers of those sparkles with the balm of a Kannada.
He shows his prowess in Garudadhwani in yet another song:
Aanandasagara – Garudadhwani
Lastly, a bouquet of five songs which display his range and that unmistakable quality of being an endearing singer.
Dayaleni – Nayaki
Gopika Manoharam – Mohanam
Paramapavana (POOCHI) Poorvi Kalyani
Kanchadalaya – Kamalamanohari