Dwaram Venkataswamy Naidu
Resource Person: SashiKulkarni
Biography courtesy: Wikipedia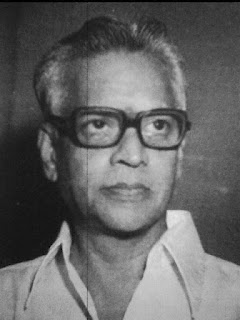 Dwaram Venkataswamy Naidu
(b. 8 November 1893 to d. 25 November 1964) was one of the most important
Carnatic music
,
violinists
of the 20th century. Naidu was partially blind. He played at the
National Physical Laboratory
auditorium, New Delhi in 1952, to raise funds for the Blind Relief Association.
Early life and background
Dwaram Venkataswamy Naidu was born in November (Deepavali day), in Bangalore, India and was raised in Visakhapatnam. He was appointed Professor of violin in the Maharaja's Music College in Vijayanagaram, at the young age of 26, and became its principal in 1936.
Naidu was the first one to start the violin solo concerts. His first solo concert was given in Vellore in 1938. Naidu's technique is renowned. But certain words crop up often when discussing his technique: "simple," "deceptively simple" and even "minimal." He was known for his extremely well developed soft bowing technique combined with a firm fingering technique. He was known to be a listener of Western and Hindustani music and would imbue his solos with occasional flourishes from outside influences – without disturbing his own music's tradition.
He wrote several articles on music, like an essay on the "Peculiar characteristics of the tambura". He cautioned his disciples against missing practice even for a day. "If you don't practice for one day, you will notice your mistakes, if you don't practice for two days the audience would notice your mistakes!!"  He often used to say, "Music is an audible tapas."
Yehudi Menuhin, a world renowned violinist, was greatly impressed when he heard Dwaram play at Justice P.V. Rajamannar's house. The famous playback singer Ghantasala Venkateswara Rao learned Carnatic music under Naidu. Kalaimamani Smt.RadhaNarayanan was also a disciple of V.Naidu.
Awards and honors
Madras Music Academy presented him with SangeethaKalanidhi in 1941.
Andhra University conferred on him Kala Prapoorna in 1950.
He received Sangeet Natak Academi Award in Fine Arts in 1953.
Padma Shree Award was conferred on him in 1957.
Indian Postal Department has released a commemorative stamp on his birth centenary in 1993.
Raja-Lakshmi Award for the year 1992 by Sri Raja-Lakshmi Foundation, Chennai was awarded to Dwaram Venkataswamy Naidu Memorial Trust.
The Sri Dwaram Venkataswamy Naidu Memorial Trust was established in Chennai. Dwaram Venkataswamy Naidu Kalakshetram was established in Visakhapatnam.
Statues of this notable musician have been erected in Visakhapatnam and Chennai, India.
Family
Eminent Musicologist Dwaram Bhavanarayana Rao is his son.
His daughter Dwaram Mangathayaaru is an eminent violinist.
Dwaram Anantha Venkataswamy is his grandson. He is a Civil Engineer working in VisakhapatnamSteel Plant.
Dwaram Lakshmi is daughter of Dwaram Bhavanarayana Rao. She is a Vocalist presently working as Professor in Padmavathi Mahila University.
Dwaram – The Zen Violinist (by Sashi Kulkarni)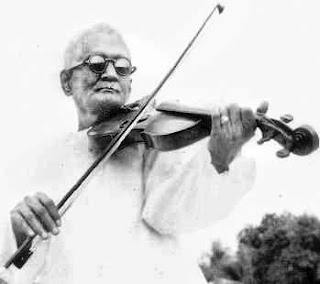 Every time I experience Dwaram, my mind goes back to the days when I went to banks of the river in my hometown and studied the various kinds of men and boys who would come there for their daily swim / bath.
The first type of swimmers would pick a tract that ran parallel to the bank and was a bit shallow. There would be great fun and frolicking there. In fact, too much splashing around to be able to see through clearly.
Further up was a rocky patch where a bit of diving too would take place.
Next to that was a clear stretch, where the currents would be strong and only those who loved their art, would venture there.
Lastly was a patch close to the mid section, a place where a Mantapam stood. The degree to which it was immersed, would tell the town folks, if the river was in spate.
All through my childhood, I came across only one guy – a rustic merchant who would have his daily bath in the river – swimming in that zone, for hours together. Others who liked to make a quick entry and quick exit, never ventured there. This guy made that zone – his home. Lying on his back and swimming backwards just enough to beat the current, he would remain static from my point of view. Occasionally he would burst into energetic swimming, to the other bank and return.
To me, Dwaram's music has all the qualities of that swimmer of my childhood. Operating in a very exclusive zone, not as a matter of great exultation, but of personal choice.
Here are a set of tracks that will help the reader understand what I mean by the Zen effect.
We start with several tracks sliced from an RTP of Raga Vardhini. Please try and use headphones to listen. It is an amazing performance, digitally mastered by my dear friend Nageswaran. Notice the cute responses by daughter Mangathayaru. The plucking of the strings – TonkTonk – piercing your heart, the slowing down of the pace to almost zero, and so many other effects beyond description.
http://www.mediafire.com/?p2do1a3gy3x77k8
Part 2 The fleet footed Bilahari.
part 3 Mohana – like call of the bird announcing the morning, to the world.
part 4 The Piece-de-resistance in this bunch. Music to melt a rock.
Part 5 The capricious Behag.
Part 6 Concluding ceremonies for the RTP. Mridangam appears on the scene only now, a full hour into the item.
A glorious opening of a concert with a varnam.
A nice moment with Veena,  singing  Kalyani.
A brilliant way of playing Bhajana Seyave.
And lastly a set of tracks which was a tribute from AIR. A precious recording for understanding Dwaram A to Z.