M.D.Ramanathan
Resource Person: Sashi Kulkarni
Biography courtesy: Wikipedia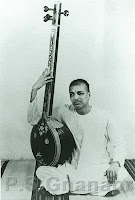 MDR was born in Manjapara, Palakkad District, Madras Province (Presently in Kerala) on 20th May 1923. His father Devesa Bhagavathar was a music teacher by profession. MDR did his schooling in Palakkad and graduated with a BSc degree in Physics from Victoria College, Palakkad. On completion of his studies, he travelled to Madras along with his father to improve his musical talents.

Study of Sangita Siromani music
During the same time, the legendary Rukmini Devi Arundale initiated a new course onSangeeta Siromani at Kalakshetra. MDR auditioned for the course and was the only student to be selected for the first batch commencing in 1944. Soon, MDR emerged as Tiger Varadachariar's favorite and was his closest disciple when the later died in 1950.
Principal of Kalakshetra
After his graduation, MDR continued as an assistant to his guru and later became Professor of Music at Kalakshetra. He also served as the Principal of the College of Fine Arts at Kalakshetra.
Music 
MDR was known for his unique style of singing. In addition to having an extremely deep, booming voice, he rendered songs at an extremely slow pace, thereby allowing ample time for the listener to catch every word of the song and gauge its meaning. He also sang with adequate bhava or expression. Ramanathan has sung in most Carnatic music ragas such as Sahana, Sri, Anandabhairavi, Reethigowla and Yadukula Kambhoji. Other favorite ragas of his include Kedaram, Kambhoji and Hamsadhwani. As he himself once admitted, hisVilambita Kaala Gaanam renderings during Kathakali dances had influenced his music and style of singing.
His style of rendering was very different from the standard format of a Carnatic concert. He often deviated from the standard set of sangathis and sang his own versions.
MDR has composed more than 300 songs in Carnatic music in Tamil, Telugu and Sanskrit. He used the wordVaradadasa as his mudra, in respect for Tiger Varadachari, his teacher.
Awards
For his contributions to music, MDR was awarded the Padma Shri by the Government of India in 1974 and the Sangeet Natak Akademi Award in 1975. The Indian Fine Arts Society bestowed upon him the title of 'Sangeetha Kala Sigamani' in 1976. He also served as a member of the Madras Music Academy's Experts Committee. He was also considered for the Academy's Sangeetha Kalanidhi award in the 1983-84 season though he did not get the award.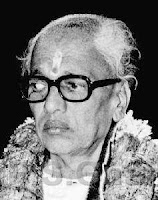 Death
MDR died after a long illness on April 27, 1984 at the age of sixty.

Legacy
MDR's legacy has been kept alive through his albums and private recordings. M.D. Ramanathan, A Unique Octave in Music by Dr. Madhu Vasudevan, which was released in 2003, is a fitting tribute to the legend.
Kulkarni Uvaacha…….
MDR – An artist who transcends man made boundaries in the field of art. He was a singer, writer, dramatist, scientist, poet all rolled into one. Here I am trying to capture the essence of his lifetime work through quotes from famous names in all these various fields of endeavor – with an appropriate matching track.
I resolved to ask her (Anna Akhmatova): now after so many years of work, when she writes something new, does she have a sense of being armed, of having experience, of a path already trodden? Or is it a step into the unknown, a risk every time?"
"Naked on naked soil every time" she answered.
After a pause she added: "A lyric poet follows a terrible path. A poet has such difficult material: the word …The word is much more difficult material than, for instance, paint. Think about it, really: For the poet works with the very same words that people use to invite each other to Tea"
Lydia Chukovskaya
Amba kamakshi
http://www.mediafire.com/?5pn1l3o7z7zwxaa
Writers have no real area of expertise. They are merely generalists with a highly inflamed sense of punctuation.
Lorrie Moore
http://www.mediafire.com/?u15a18mqar07lj8
http://www.mediafire.com/?1k20k8b4et5kt2j
RTP Todi
 A good writer refuses to be socialized and conform. He insists on his own version of things, his own consciousness.
And by doing so he draws the reader's eyes from its usual groove into a new way of seeing.
Bill Barich
 http://www.mediafire.com/?doc4yicuh7c2oip
Thulasi Bilwa
 Singing is near miraculous because it is the mastering of what is otherwise a pure instrument of egotism: the human voice.
Hugo von Hofmannsthal
 http://www.mediafire.com/?pm7od7wwfkwk8su
etavunna Nerchitivo
Music washes away from the soul the dust of everyday life.
Berthold Auerbach
http://www.mediafire.com/?o0t89kuz15u0d4g
Mokshamu Galada-Saramathi
 Music….Love looking for words…
Lawrence Durell
http://www.mediafire.com/?6a3s3qrvcyq505i
Guruleka Etuvanti Guniki Teliyaga Podu – Gowri Manohari
 No work of Art is ever completed. Only abandoned.
Paul Valery
http://www.mediafire.com/?uzqbr5q0iiu1yk2
lokavana
 The job of the artist is to deepen the mystery
Francis Bacon
 http://www.mediafire.com/?6r74xh8g6gc138w
Dwaithamu sukhama
 Only a born artist can endure the labour of becoming one.
Comtesse Diane
 http://www.mediafire.com/?5dbcu84nk4iq2e1
Sankaree Sankuru
 Without music, life would be a mistake.
Friedrich Nietzsche
http://www.mediafire.com/?32hy9bu6y8kqd7d
Bhavayami
 One good thing about music, when it hits you, you feel no pain.
Bob Marley
http://www.mediafire.com/?u7ta0cczcdptxow
 If a man does not keep pace with his companions, perhaps it is because he hears a different drummer. Let him step to the music which he hears, however measured or far away.
Henry David Thoreau
http://www.mediafire.com/?5bgahulabubbwku
Ninne Bhajana
 When I hear music, I fear no danger. I am invulnerable. I see no foe. I am related to the earliest times, and to the latest.
Henry David Thoreau
http://www.mediafire.com/?i541837z2aesh66
Speech
Music is a safe kind of high.
Jimi Hendrix
http://www.mediafire.com/?ahg97i0vq8ezofw
03-Virana Brova (Kalyani)
 He who joyfully marches to music in rank and file has already earned my contempt. He has been given a large brain by mistake, since for him the spinal cord would suffice.
Albert Einstein
03-Kaddanuvariki-Thodi
http://www.mediafire.com/?mugdbo09e2mmfd0
 And the night shall be filled with music,
And the cares that infest the day
Shall fold their tents like the Arabs
And as silently steal away.
~Henry Wadsworth Longfellow, The Day Is Done
 http://www.mediafire.com/?31a0be0p7011p5k
Tulasidala
 Lastly a radio program on his 75th birthday