Posted by Usha Balasubramaniam in Music, Online Courses
on Jun 25th, 2013 | 0 comments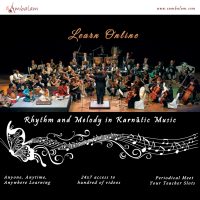 What is music? Is it the sound between the beats or the silence? It is a combination and what makes anything musical is its adherence to a rhythm. It is like the heart beat of the human being. Rhythm represents nothing but time which is measured in terms of beats.
Without a conscious effort, many a times we would have felt the pulse and keep with time while listening to some music, following the rhythm by counting beats!
"Thala in Sanskrit means a "clap". Tala (Rhythm) is the pattern that determines the rhythmic structure in a musical composition. Carnatic vocalists demonstrate Tala (Rhythm) by clapping their palms on their thighs or some may even use their feet.
The most important Talas in Karnatic music are Dhruva, Madhyama, Roopaka, Jampa, Triputa, Ata and Eka.
We, at eAmbalam, have a course on his specific theme: the different Talas or system of beats. There is a recap of the introductory exercises and the course moves on.   Once your ears are sharp enough to pick the beat, your sense of rage grows sharper. There is indeed a mathematical beauty to our music.
 Enroll Now @ http://www.eambalam.com/kalpavriksha/courses/online-carnatic-courses/rhythm-melody-carnatic-music/3/1/1/9