Posted by admin in Past Events
on Jan 4th, 2013 | 0 comments
SaMaaGaMa –Chennai's first unique outdoor festival of free interactive workshops and performances hosted by eAmbalam was held on 15th & 16th December 2012. Nageswara Rao Park was the perfect setting for the events scheduled. Two venues were prepared- one in the Chess square and the other in the shady patch ahead.

The invocation was sung by T V Ramprasadh at 6am in the morning on 15th and the park was filled by the organizers, their in-house team, volunteer rs, invitees and general public. What was interesting about SaMaaGaMa was the range of workshops therein handling wellness, Music, Dance and general themes. The wellness workshops covered Tai Chi by T.V.Ranga Rao and a discourse on Art & life by Dr. Shilpa Pandit, on the first day and included Yoga by Renjith Babu and meditation by Dr. Shilpa on the second. The participants and the onlookers had a "feel good" experience thoroughly in these four workshops.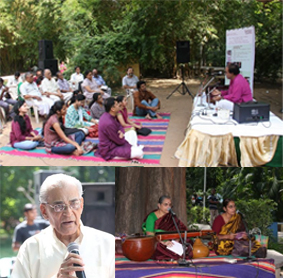 The music workshops on both days were interesting, informative and educative. Saturday morning in the park and we got a scholarly exposition from Dr.Sriram Parasuram about the nature of melodies in Indian classical music in their aspects with special reference to allied ones. The greatness of Karnatic music, interspersed with beautiful renderings of classical based film songs made Madurai G S Mani's open house on "Any questions on Karnatic music" very interesting. Dr. R.S.Jayalakshmi did a wonderful exposition on ornamentations to swaras in Karnatic music in her Practical workshop on Gamakas on the Veena and also by vocal. It was a pleasant experience for all gathered under the trees at 9am Sunday morning as M.O.Parthasarathy with vocal support from Keerthana, Tabla by Aditya Srinivasan and Violin by Easwar Ramakrishnan trained the participants in unusual exercises like singing day to day shlokas in Sanskrit, Tamil and other languages to Hindusthani tunes. South Indian percussion was explained at an experiential level by Melakkaveri K. Balaji in his workshop on Mohora and Koraipu on both Mrudhangam and Kunnakol.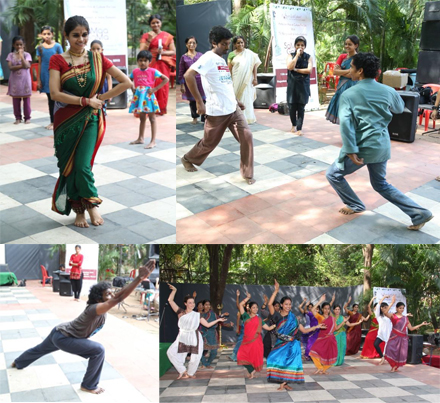 In the dance workshops section, with demonstrations from the troupe about the concept, Narendra Kumar and his Anusham Dance Group encouraged the participants of the Joy of Rhythm workshop to explore the aspect of rhythm in various facets of performing arts. Award winner, eminent dancer and teacher of the Odissi style of Indian classical dance, Sujata Mohapatra gave a charming demonstration of the footwork and hand movements typical to Odissi to the participants of her workshop. It was the turn of Lucrezia Maniscotti who brought in her expertise in both European theatre and expression (Abhinaya) from Bharathanatyam into her workshop and her well attended theatre workshop drew all age groups. Vasanth Kumar's Kalaripayattu workshop gave us a glimpse into the handling of our body and some weapons according to the traditional Indian martial art of Kalari. Back to the chess square, the energetic Lavani was explained after a brief performance by Supriya Kharat. As children, teenagers and adults tried out each step they were happy to follow her directions to do the Lavani steps.

Akatha Kahani- a song, story and dance presentation on Kabir, 14th century mystic poet and radical thinker was performed by Jaya Madhavan, Bindhumalini & Archana who succeeded in combining all three concepts to take Kabir to the hearts of the audience. With a panel full of established artists it was a very productive session with the title Arts in Education in the afternoon at the park at the chess square. With artists like Sangeeta Ishvaran, Anusha Subramanyam, & critic Sruti Janaki in it, the session was an informative experiential educative panel discussion indeed! T V Ramprasadh, moderated the proceedings with inputs from his experiences as a performing artist. In the evening, Sri Guru Raghavendra Yaksha Kala Vrinda staged the story of Jambavathi Kalyana. The rich greenery was the perfect foliage for the colourful classic Thenkuthithu pattern of Yakshagana presented powerfully by this troupe. SaMaaGaMa even had a solo Tamil theatre act where with her prodigious talent; S.S.Kalairaani enacted the intense feelings of Nandhanar, A Shaivaite saint, who was deprived of the Lord's sight inside the temple due to the prevalent caste system then.
A general workshop, that too on paper art was a novelty in SamaaGaMa, which led people imagine that only performing arts, both classical and non-classical were being showcased by eAmbalam. The Origami Society of Madras founders, Subash Thyagarajan and Kartik Raghavendra Vignesh are two enthusiastic youths who have set out to make this art more popular. In keeping with this they conducted two sessions of Origami in SaMaaGaMa and had every participant create different pieces of art by Origami.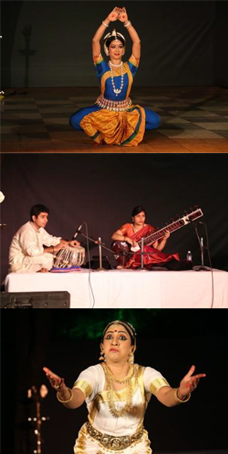 In the performances section, artists came from all over the country and displayed various genres. The Karnatic vocal performance of Sriram Gangadharan with his mellifluous notes enthused every visitor in the morning. It was evening and Nadaswaram sounds engulfed the green surroundings. The duo of exclusive artists who are globalizing the importance of Nadhaswaram Music, Kasim and Babu rendered auspicious the proceedings of SaMaaGaMa with their concert. Guru Kelucharan Mohapatra's tutelage was on excellent display while Sujatha Mohapatra danced in the evening amidst greenery, next. The progressive Blues / Jazz band Karmic Blues containing multi-ethnic members excited the listeners with their "away from the normal" medley. Anupama Bhagwat's technical virtuosity was visible in her evening's performance as she effortlessly played very enchanting tunes in the concert on Sunday, ably supported by the enthusiastic tabla player Aditya Srinivasan. It was a joyful experience for the rasikas to see Mohinattam at its classical best by Smitha Rajan during SaMaaGaMa. Multifaceted senior musician, Prof. V V Subrahmanyam enthralled the connoisseurs who had eagerly gathered for his late evening concert on Sunday. This concluding treat of SaMaaGaMa left the audience wanting for more.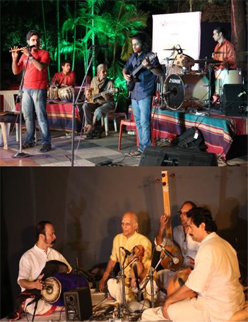 Chennai in Margazhi or the December season should witness more of this .eAmbalam has been the trendsetter by taking a plethora of performing arts of India to the common man. SaMaaGaMa is synonymous with quality, variety, information, education, sharing and all that which synchronize with eAmbalam's vision "Creating Artists Everywhere". The unique event truly enriched the understanding of the students, laymen, connoisseurs, musicians and dancers who had gathered there.
-Vidyalakshmi Venkataraman