Posted by Usha Balasubramaniam in Music, Online Courses
on Jun 25th, 2013 | 0 comments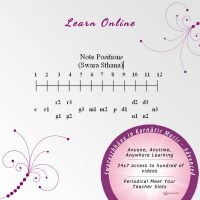 Swarasthana basic gives a firsthand experience of Swara (Note), Raga (musical scale), Tala (Rhythm). Swarasthana Advanced takes you down further: you're convinced that Carnatic music suits you and wish to know more than alphabets.
We introduce 16 Swaras (Notes), 72 Melakartas, Gamakas and much more on where you need to grow. This is more like a sapling needing a first few drops of water; it bonds to the earth and decides to grow. We'll guide you on how to make your voice grow strong and flexible before you reach your pitch. We'll use audio-visual course material; we'll interact with you online, listen to you and tutor you. Till you get it right. A great value addition for this course is the description of many musical scales.
A good foundation much like good beginning is half done.
Enroll Now @ http://www.eambalam.com/kalpavriksha/courses/online-carnatic-courses/advanced-swarasthana-carnatic-music/3/1/1/8