Posted by eAmbalam Administrator in eAmbalam Musings, Home, Past Events
on Jan 5th, 2014 | 0 comments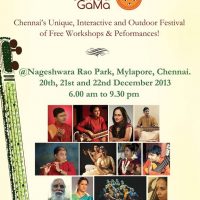 SaMaaGaMa 2013 was a great learning for all of us at eAmbalam. We were extremely satisfied that we got under privileged school children interact with stalwarts during workshops. Our efforts were also reinforced by the participation of some members of the community in workshops and concerts. A more wholehearted response and acceptance of our work, will give us the impetus to work for the community in future….A few satisfied visitors on ground and online was all we were looking for and that was achieved.
We have mastered the art of putting up a successful event in such a short time, thanks to the tireless efforts of every volunteer and we can proudly claim to have set new standards in artist hospitality.
We are constantly exploring newer ideas in community sharing and we hope to have SaMaaGaMa in a totally new Avatar soon !
Thanks to the staff , students and volunteers at SaMaaGaMa – without you this would not have been a reality. I dedicate this event to you all !
A bit disappointed with the local community's reluctance to accept this fresh and novel idea. And I think sponsors don't deserve to be associated with events like this. They don't know what they want, may be it is all about making a brand presence and selling products, than supporting the arts !