Posted by Usha Balasubramaniam in Music
on Sep 18th, 2013 | 0 comments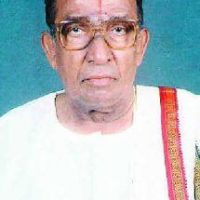 Lakshminarayanan was a Karnatic musician from Thamizh  Nadu and a student of the famous singer T.K.Rangachari. Inheriting truly the `paathaanthara' and style of T.K.Rangachari, through `Gurukulavasam,' Vairamangalam was also inspired and influenced by Ariyakkudi, GNB, Semmangudi and Rajarathnam Pillai. He was also motivated during his formative years by the classical tunes of M. K. Thyagaraja Bhagavathar and S. G. Kittappa, as also the outpourings of Dhandapani Dhesikar in the film, Nandhanar.
Lakshiminarayanan could sing elaborately in very obscure and rarely used ragas such as Nagaswarali, Dhharmavathi, Janaranjani, Andholika, etc. Being a versatile singer he could improvise and bring out the subtleties and nuances of such ragas. He would also, as a refreshing change, bring out in his concerts, the essence of certain vivadhi ragas such as Rasikapriya, Ganamurthi, Nithimathi and Chandrajyothi. Vairamangalam's in-depth `swaragnyanam' was such that he could keep pace by singing the corresponding swaras, simultaneously with a musician who rendered a raga. As a versatile musician, gifted with both `lakshana gnyanam' and `lakshya gnyanam,' he could, with consummate ease, improvise and bring out the subtleties and nuances of ragas.
As a person, Vairamangalam was not merely unassuming but also willing to involve himself, without any reservations, in what he himself referred to as `Vidhya  Dhaanam' — sharing and imparting knowledge. Not concerned with time occupation, he would passionately teach his students.
Awards:
Sub-senior musician award of the Music Academy in 1971.
Senior Fellowship, for his project of setting to music about 65 verses from `Divya Prabandhams in 2000.
`Kalaimamani' Award of the Tamil Nadu Government was conferred on him a few months before his death.
As Professor Emeritus of the Kalakshetra Foundation, Vairamangalam leaves a host of disciples. His senior disciples Jaya Krishnan and T. Shyamsundar, Jayasankar(the young visually challenged performing artiste) as also all those who knew him, remember with fondness his greatness as a person, as a teacher and as a musician.
Data compiled from:
http://en.wikipedia.org/wiki/Vairamangalam_Lakshmi_Narayanan
http://dhanyasy.org/go/kalakshetra-gurus/vairamangalam-lakshminarayanan/