Posted by Usha Balasubramaniam in Culture & History
on Oct 12th, 2013 | 0 comments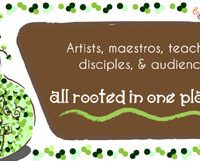 SaMaaGaMa – Chennai's first unique outdoor festival of FREE interactive workshops and performances is hosted annually by eAmbalam. We had two editions consecutively in the years 2011 & 2012.For all details of the resoundingly successful event, please visit www.samaagama.org
In this season of Navarathri, dedicated to the energy of the Dhevi, I chose to credit all the women artists who played a major contributive role in both our 2011 & 2012 editions of SaMaaGaMa. You will find below brief to short profiles of these artists with one link related to them.
Music Workshop & professional show -2011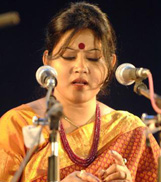 Sanhita Nandi
Sanhita Nandi is a prominent exponent of Hindustani Classical Vocal, Kirana Gharana in the Khayal and Thumri genres. After initial training, Sanhita was later groomed by Late Pandit A. Kanan, the senior most Gurus of the ITC Sangeet Research Academy, Kolkata. She is recognized as one of the foremost vocalists with the distinctive features of the Kirana Gharana.
More: http://www.sanhitanandi.com/
Dance Workshop -2011
Sangeeta Isvaran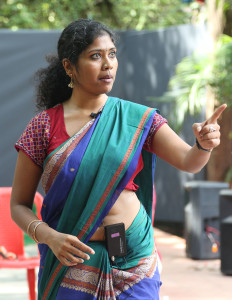 Sangeeta has trained in Bharatanatyam for over 20 years under many eminent gurus including Kalanidhi Narayan, Savitri Jagannath Rao, C V Chandrasekhar, Bragha Bessell and Priyadarshini Govind. She also learnt the dance forms of Indonesia, Cambodia, Thailand and Burma. She combines a love for dance and experimentation, with a commitment towards social causes. More: http://www.narthaki.com/info/intervw/intrvw77.html
Music workshop – 2011
Carola is one of the best known modern drummers from Germany. She began learning at age 11, and has traveled the world, including to India and was part of the 'Carnatic Jazz' project, with Sri TV Gopalakrishnan. A composer and teacher, she is currently part of two well known bands – BabelFish and Noisy Mama.
More: http://www.carolagrey.de/
 Professional Shows – 2011
Komala Kumari Mayshark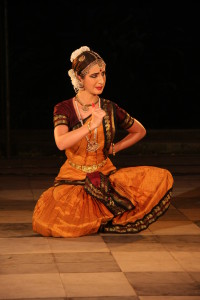 Komala Kumari is a US-based dancer who began her dance journey at a very young age under her sister Smt. Anapiyini Jakupko. She took her first lessons with Smt. Indira Kadambi at age 7, and continued her training through workshops and intensive training in Chennai. She now lives in Alachua, Florida, USA where she continues learning under the guidance of her sister and teaches beginners classes at Bhakti Kalalayam Dance Academy. Kumari carried out her Arangetram in March 2011 and recently completed a tour in Poland consisting of 47 performances throughout the summer. Kumari feels dance is not only her passion but it is also an offering to Lord Krishna.
More: http://www.youtube.com/watch?v=G9PRqrTr70A
Punya Srinivas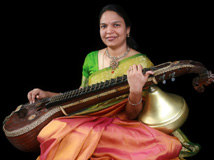 Punya is a professional vainika and vocalist. Initiated into music from age 6, she is a student of Vidushi Smt. Kamala Aswathama, the mother of renowned vainika E. Gayathri. She is currently pursuing the advanced aspects of Carnatic music from Sangeetha Kala Acharya Suguna Varadachari.
More: http://en.wikipedia.org/wiki/Punya_Srinivas
Bindhu Malini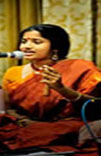 Bindhu Malini hailing from a family of musicians is a singer and a graphic designer.  She is trained in Carnatic Classical Music. She has learnt under eminent musicians such as Rama Ravi, Kiranavali, Mangalam Shankar and G. Madhavan. She is now a disciple of Ustad Abdul Rashid Khan, a resident guru of Sangeet Research Academy, Kolkata, learning Hindustani Classical in the Gwalior Gharana Gayaki. She sings concerts in the contemporary style and scored music for many theatre productions.
More: http://www.youtube.com/watch?v=Wx837ibv1MM
 Betty Jardin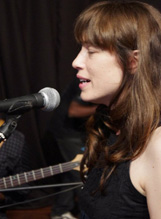 The vocalist is a French woman whose love for Indian culture has kept her in the country for the last many years. In her own country, her name figures among those acclaimed for jazz and blues. In the days before she landed in India, she used to team up with guitarist Alexandre Letellier. She enjoys giving jazz concerts in India. But she also likes to "take" the best that India has to offer – Bharatanatyam and Carnatic vocal music, both of which she has been learning since the day she set foot on Indian soil. "I can give solo performances in both," she declares confidently. She thinks Chennai is full of cultural riches.
Minor Swing by Betty at Alliance Francaise in 2011: http://www.youtube.com/watch?v=ItiuSLNnH3Y
 Wellness Workshops – 2011 & 2012
Dr. Shilpa Pandit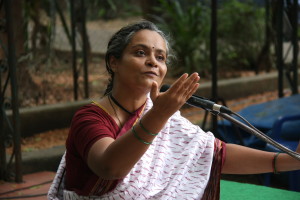 Shilpa is a trained psychologist, researcher, trainer and counselor. She has a rich experience in all aspects of psychological practice. Her interest in Arts and spirituality, started about 10 years back, when she wanted to find a meaning about the emotional turbulence, she was going through in her personal life. Many times, she found that, the performances on the stage seemed to mirror her personal life; many other times, the emotion performed on stage was completely dissonant with her present experience, yet something she had wanted to be or feel. These observations started a process of research over the years, where she has been able to read texts on Rasa, meet great art teachers and aspiring students.
She has published a few papers in academic journal, but more importantly, she has always checked and cross validated at every step, whether the texts and the views of the performers resonate with the churning that people experience as they encounter life. The intention of art was to engage with the people and convey the essential and eternal messages of living a life of well-being- so says the Sage Bharat. If life has to find an enhanced relevance, then, it must its recharge through art: If arts are to remain relevant, then they must reflect the essential concerns, the unspoken yearning of living a life. Shilpa shared her research insights in SaMaaGaMa 2011 & 2012.
 Dance Workshop & professional show – 2012
 Sujata Mohapatra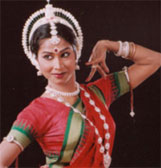 Sujata is an eminent Indian classical dancer and teacher of Odissi dancing style. She started learning Odissi at an early age from Guru Sudhakar Sahu. She came to Bhubaneswar , Orissa, in 1987 to further her training under Padma Vibhushan Guru Kelucharan Mohapatra at Odissi Research Center in Bhubaneshwar. She married Guru Kelucharan Mohapatra's son Ratikant Mohapatra. Her daughter Preetisha Mohapatra is also an Odissi dancer. Sujata started dancing Odissi classical and folk dance with Sudhakar Sahu's dance troupe in programs across Orissa. Under the tutelage of Guru Kelucharan Mohapatra, her dance style evolved and she was groomed to become one of the foremost Odissi dancers of her generation. Sujata Mohapatra is also actively involved in teaching Odissi. Presently, she holds the designation as the Principal of 'Srjan' (Odissi Nrityabhasa) a prime Odissi dance institution founded by Guru Kelucharan Mohapatra. Sujata has obtained a Masters Degree in Oriya Literature from Utkal University and has also done research work at the Odissi Research Centre, Bhubaneshwar. She opened an Odissi institute, Guru Keerti Srjan, in her hometown Balasore in July 2011.
She has received many Awards including:
Mahari Award given by Pankaj Charan Foundation
2nd Sanjukta Panigrahi Award given by Chitra Krishnamurthi from Washington D.C.
Top Grade Artist of Doordarshan Outstanding Category Artist in ICCR
More: http://www.youtube.com/watch?v=cEPyd736s8A
 Dance Workshop – 2012
 Supriya Kharat

With a diploma in Bharathanatyam from Kalakshetra, chennai and a post graduate degree in arts management and culture studies, Supriya Kharat is now pursuing post graduation in Bharathanatyam. She has rich performance experience including solo and dance drama productions.She has learnt the folk dances of various states like Tamilnadu, Kerala, Orissa, Karnataka, Gujarat, Bengal and Nagaland apart from her home state Maharashtra. Supriya has won several prizes in different dance competetions. She is also a model and a compeer for various events. Having worked as a dance teacher in Rukmini Natyakshetra, Chennai she now is the design and development Manager for French embroidery company, Vastrakala. In SaMaaGaMa, Supriya demonstrated and taught the basics of the popular dance from of Maharashtra, Lavani.
 General Workshops – 2012

Lucrezia is a Bharatanatyam (Indian classical dance) and drama artist, teacher and scholar based in Italy. In 1993 she started studying theatre and working on the stage, then she gets actress graduation at the Theatre School "Teatri Possibili" in Milan in 2000 where she works in many performance of the company. She fulfils her education attending a lot of workshop with different directors (Danio Manfredini, Peter Clough, Odin Teatret). She has been learning Bharatanatyam for the past 10 years in Italy under late Smt. Krishnaveni Lakshmanan students. Since 2006 she is undergoing intense training under the sage guidance of Padmasree Adyar K.Lakshman at Bharatha Choodamani in Chennai where she took her dance Diploma after her Debut Perfomance at Kapalishwara Temple in 2009. She is also learning Carnatic vocal and nattuvangam under Bhagavatulu Seetarama Sharma and abhinaya from Smt. Indira Kadambi. Her passion for Indian culture motivated her to complete the MA in Indology from the University of Milan where she presented a dissertation on Indian Classical Theatre.
On graduating, Lucrezia was awarded a prestigious scholarship by the University of Milan for pursuing one year of advanced studies in Bharatanatyam in India . She performed a Bharatanatyam solo during the music and dance Festival 2010 of Chennai at RK Swamy auditorium in Mylapore invited by her Mohini Attam teacher, Kalaimamani Gopika Varma, and present a short program for Saila Sudha festival in 2011 at Bharata Vidya Bhavan of Chennai. Lucrezia is also founder of an association for promoting Indian classical performing arts in Italy (Sagome Teatro). Since 2002 she is teaching drama in private schools for theatre studies and in secondary high schools and Bharatanatyam in many cultural center in Italy . She is also perfomer and choreographer for the groups "Denis Stern Project" and "Dunia" (world music) and "Milon" (dance and music from Rabindranath Tagore's opera). Member of ABHAI (Association of Bharata Natyam Artist of India ) and of CID-Unesco 2010 (International Dance Council). Recently Lucrezia received a prestigeous fellowship from the UK based organization "Milapfest", for travelling and deepen her Bharatanatyam studies.
More: http://www.youtube.com/watch?v=ccNC65me-5s
 Sruti Janaki

S. Janaki – Arts commentator and journalist for over two decades, Executive Editor – Sruti magazine, arts activist and consultant, office bearer and committee member of prominent arts organizations, compeer for formal cultural programmes, lifelong student of music, dance and painting. A few highlights of Janaki's career:
Learnt Bharatanatyam and given many performances till about the age of 30 in the industrial belt of Eastern India.
Currently Vice-President of ABHAI – Association of Bharatanatyam Artistes of India.
Has compeered programmes for cultural and religious organisations.
Participated in seminars as moderator and speaker, panel discussions, in camps and workshops on dance.
Honours from Shree Bharatalaya and SaRiGaMaPaDaNi Foundation,Chennai.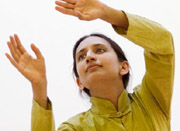 Anusha Subramanyam, director of Beeja, is a dancer, choreographer, teacher and dance movement therapist. She is seen as one of the most exciting exponents of Bharatanatyam working 'inside' and 'outside' of its tradition. Her work is trans-cultural and inter-generational. Anusha has choreographed a wide range of performances and has collaborated with artists from a variety of disciplines to create work that is accessible, entertaining and challenging. Anusha is an inspiring teacher who, for the last 23 years, has focused on integrating dance, education, somatic and contemplative practices into her work Anusha is also a dance movement therapist, specializing in working with children with autism, metal and physical disabilities. 1994 she was awarded the Dr. PN Berry and Chevening Scholarships to study Dance Movement Therapy in UK.
She is an alumunus of Kalakshetra College of Fine Arts, where she graduated in honours in 1986. She subsequently trained under Leela Samson in Delhi.
More: http://www.youtube.com/watch?v=NI6syfaccX4
Music Workshop – 2012
Dr. Mrs. R.S. Jayalakshmi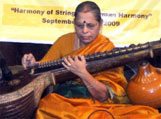 Dr. Mrs. R.S. Jayalakshmi is a Veena artist and had her training under Veena Vidvans Late Sri V.Raghavan and R.Pichumani Iyer. She also learnt some special compositions like Padam and Javali from Smt. T.Muktha. She has been performing Veena concerts in All India Radio and the Department of Indian Music, University of Madras , from 1977 to 2004. Her M.Phil. Dissertation entitled "Raga lakshanatthil Aarohanam Avarohanam" (Tamizh) (Aarohanam – Avarohanam as the characteristic of a Râga) has been published as a book in December 1999. The subject of her Ph.D. Thesis was "Subbarama Dikshitarin Sangita-sampradaya-pradasini-yil Vilakkappattulla Gamakangal" (Tamizh)(Gamakas explained in Sangita-sampradaya-pradarsini of Subbarama 'Diksitar). She has also presented Research Papers and Lecture-Demonstrations at various conferences.
More: http://www.youtube.com/watch?v=Y7m9XVicvso
 Professional Shows – 2012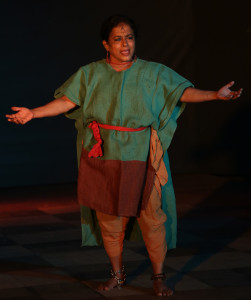 S. S. Kalairani has unconventional looks and an avant garde histrionic style, but she definitely is an actress of substance who comes up with power packed performances. Showing promise at a very young age Kalairani, an avid cinema buff, was the entertainer doing perfect take offs on MGR, Nagesh etc. in between classes. Spotting her talent, her parents sent her to the Film Institute, Chennai. She alsodecided to study at the Adyar Music college and completed a course in Cosmetology.She went to Koothu-pattarai. Kalai made her debut with "Kattiyakaran", written by Na Muthusamy, a play which went for the South Zone festival.She featured in other Koothu-p-Pattarai productions like "Vellai Vattam" and "Guruvamma" and in 1988, joined them full-time once they started their Repertory group. But it is with solo performances that Kalai really came on her own. And the seed for this was sown by danseuse Veenpani Chawla with whom Kalai worked on a network programme. Her style has evolved over the years partly influenced by the people she has worked with. An actress for more than twenty years, she's been one of Chennai's best-known faces when it comes to theatre. Her stylized acting and the freshness she brings to her performances always leave her audience awed. Kalairani has a way of bringing the scene to life – and that is no cliché, as far as she is concerned. To her, the character, the scene, the space, is something so tangible that it needs to be impressed on the viewer.
 Akatha Kahani
About: Akatha Kahani is a song, story and dan ce presentation on Kabir, 14th century mystic poet and radical thinker.
Description : You don't meet Kabir. He happens to you. Mystic weaver, radical poet, social thinker, synthesiser of religions… we call Kabir many things but he uniformly calls us all "Sadho", "O good ones" and invites us to listen to his truths. And when you have encountered the 14th century mystic poet in the space of his song, there is no telling where he will take you, what he will show you and what he will inspire you to do. It is rather inexplicable- this alchemy between Kabir and a willing listener, this anachronistic meeting between you and a poet from a very distant past.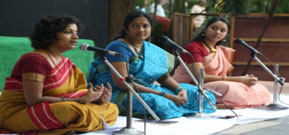 Akatha Kahani or untellable story is a presentation on Kabir, where three sisters attempt to showcase this special alchemy between Kabir and his listeners by sharing their individual encounters with Kabir. One wrote a book for young adults, another sings his songs passionately and yet another expresses Kabir's impact on her through Bharatnatyam. Akatha Kahani, the song, story and dance presentation features Jaya Madhavan, author of Kabir the weaver poet book, Bindhumalini, a singer trained in both Carnatic and Hindustani music and Archana, a Bharatnatyam dancer and French translator.
Punctuated with personal sharing, excerpts from Kabir the weaver poet, and
abhinaya for select padas, Akatha Kahani's pivot however is Kabir's songs (as sung by Kumar Gandharva), which the three sisters sing together as an impassioned plea in order to evoke and approach Kabir, the sensitive, sensible and spiritual being present in all of us.
 Anupama Bhagwat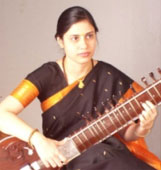 Anupama, one of the leading disciples of the world-renowned Pandit Shri Bimalendu Mukherjee, is a refreshingly versatile Sitarist of the current generation. Her sensitivity and erudition has taken her to the highest echelons of the modern genre, while remaining true to tradition.  She has imbibed the vigor that is a hallmark of her Gharana: scintillating fast taans, mastery of the meditative alaap in Gayaki style and brilliant fluency of melody ( raag bhava ), all the while maintaining her technical virtuosity. Besides her concert appearances world-wide, she has also collaborated on World-Music performances in Global Rhythms and Shanti. She has been conferred the title Surmani, by Sur Sringar Sansad , Bombay and received grants from the Ohio Arts Council (USA).
More: http://www.youtube.com/watch?v=u_AmF84sV4Q
Smitha Rajan
Smitha Rajan is a Mohiniyattam performer from Kerala and granddaughter of the legendary Indian classical dancer couple of Padma Shri Kalamandalam Krishnan Nair and Kalamandalam Kalyanikutty Amma. Her mother Sreedevi Rajan is a noted Mohiniattam Guru and Smitha's teacher. Her father is the late T R Rajappan.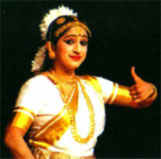 Smitha Rajan started her training in dance at her maternal grandparents' residence in  Tripunithura  off  Kochi . Blessed with the perfect ambiance of dance and music, for young Smitha, learning dance was something that was as natural as learning to speak in her mother tongue. Guru Kala Vijayan started training her in Bharatanatyam and Smitha did her Arangetram in Bharatanatyam at the age of 4. Her mother, Guru Sreedevi Rajan, a renowned dancer and teacher, taught Smitha her first lessons in Mohiniyattam and Smitha performed her Arangetram in Mohiniyattam at the age of 6. She later mastered in Mohiniyattam from her legendary grandmother too. Her grandfather Guru Kalamandalam Krishnan Nair taught her Kathakali and fine tuned her Mukhajabhinaya (facial expressions). Smitha has also undergone training in Classical Carnatic Music under Professor Kalyanasundaram for over 8 years. At Kerala Kalalayam she was trained in Kuchipudi as well for 5 yrs. She turned professional dancer at the age of 12 and had accompanied her grandmother, her mother and her aunt all over India and abroad to numerous venues. Today Smitha lives in St. Louis, MO, USA along with her family and is running the institution Nrithyakshetra " Temple of Dance " as a branch of the institution her mother Sreedevi Rajan had started at Kochi in association with the parent institution Kerala Kalalayam.
More: http://www.youtube.com/watch?v=rD4vatkGCJw