Posted by Vandana Narasu in Culture & History, Dance, eAmbalam Musings, General, Music, Others, Wellness
on Jul 19th, 2014 | 6 comments
Gone are the days when Carnatic music, Dance and other major art forms were offered as optional activities at Schools. Some forward looking schools are starting to include these art forms as part of their regular curriculum and this is a welcome change. Out of my personal experience of going to schools and introducing children of all ages (starting from primary to higher secondary) to Carnatic classical music, I can confidently vouch that, they are heading towards a positive future.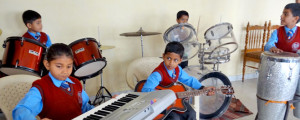 During the early 1940's, Carnatic music form was celebrated and appreciated only by selected groups in the society. Other forms of music such as the patriotic and folk kinds were much more in vogue. But with time, Carnatic music has gained a lot of importance and has permeated to reach everyone .
I notice that, when I ask children in schools if they have heard the song Vande Mataram, their faces immediately brighten up. For two reasons, first being, they already are very familiar with it (80%) and secondly because it is a song about Freedom and our country. Not only does music give them a sense of listening, it also teaches them values about our traditions.  Music, dance or any art form for that matter, has a massive impact on children if it is taught to them in a way that would totally capture their attention.
The introduction of these art forms into their curriculum is to instigate a sense of responsibility and to strike a balance between their Intellectual quotient and Emotional quotient. Music helps activate both the right and left hemispheres of the human brain. It helps in both listening as well performing. The main purpose of teaching these art forms in schools is to make the children have an acceptance to our music tradition and culture. It also helps in making a child sing without the fear of being good or bad. They shed inhibitions and become more creative and attentive. Singing helps a lot in social adjustments and anger management, among the various other benefits accrued by instilling music education.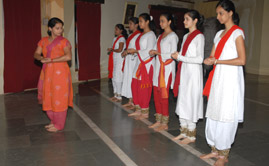 But the bitter reality is that, only 50% of the schools all over have realised the worth of these value added arts of living and that too, just as an extra-curricular activity. Many more schools are still unaware about a major responsibility that they are lacking in. My ambition is to make the school leaders understand the winds of change and widen their horizon when it comes to implementing such value added educational methods as a part of the curriculum.
More than anything, children belonging to any religion or caste or creed come together to learn and perform the art.  That is the universality of our traditional systems of music.