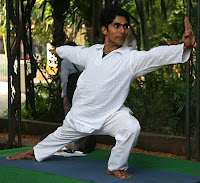 The SaMaaGaMafestival wished to expose laymen to Indian classical performing arts and also give the many students and performers, who descend on Chennai during the famed music and dance season in December. SaMaaGaMa, an opportunity to learn and interact with senior artists and scholars in the field of Dance, while getting to see their performances.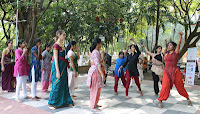 Dancers of all ages waited eagerly for their turn in the morning Yoga workshop by Renjith Babu, assisted by Vijna Vasudevan on the first day. They were so happy to explore the possibility of Yoga enhancing their dancing potential.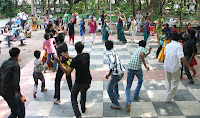 Sangeetha Isvaran danced into the venue. The whole atmosphere became electric with 3yr olds to 70 year olds dancing to African peppy tunes in her Creative Movements workshop. C H Jaya Rao came with his charged team who showed us city folks, elements of folk dance at its best. Thappattam changed our perspective that koothu was just free style as we learnt that there is a pattern behind those energetic steps.
On the Second day,Renjith continued to teach the intricacies of yoga require for dancers. Vijna explained the techniques and movements alongside.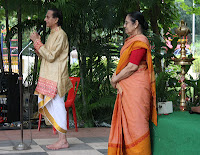 In the chess square, an enthusiastic C V Chandrasekhar play-acted many traditional and modern games through dance movements. Everyone was hooked on completely and learnt every minute. Jaya Rao again brought along a very talented performer, Yogesh, to explain to the participants the efficacy and energy of Mime.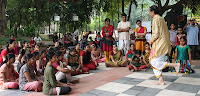 On this day, Dr.Shilpa Pandit spoke about Rasa and its deeper implications on our mind. This was an educative, interactive and interesting session as she shared some aspects of her research findings with the musicians, dancers and laymen gathered there.
– Vidyalakshmi Venkataraman