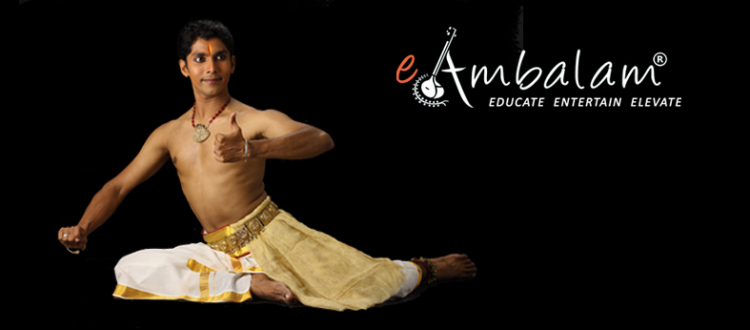 Price: 330 USD

Concise Introduction to Bharathanatyam – Part 2
This is in continuation of the part-1 of Concise Introduction to Bharatanatyam. In this course, the students are introduced to the body movements for those footwork that are learnt in Part 1; double hand gestures known as Samyutha Hasthamudra; and a very simple yet challenging composition on Lord Ganapathi, where they get a feel of using facial expressions (Abhinaya) for the very first time along with the body movements and footwork. Abhinaya, the facial expressions are very unique to Indian classical dance forms.
This course is for those who like to have a feel for Bharatanatyam dance form in short duration of 6 months (3 months of Part 1 and 3 months of Part 2). It is for those who like to understand the intricacies of Bharathanatyam in a nut shell before committing themselves for 4 to 6 year of rigorous training.
Students are provided with high quality Step by Step instructional videos, watching which they learn and present the same during one on one online class with the instructors helping them to enhance their learning. Audio downloads are provided to help the students in their practice.
This course is for you if:
• You are passionate to learn in a concise manner, a classical performing art.
• You are a beginner in the field of Indian classical dance.
• You are a theatre artist who wants to improvise your dancing abilities.
• You are a student / performer / teacher of any dance genre in the world who is interested to learn Bharathanatyam in a concise manner.
• You have finished Part 1 of concise introduction to Bharatanatyam.
This course can be done with or without certification. If the students need certification, they need to take assessments for both part 1 and part 2 of the course.
As a continuation of this course, students could enroll either for Basic Diploma course in Bharatanatyam Semester 1 & 2, Grade system of learning, Foundation course in Adavu or Modular courses in Adavu with exceptions to skip the modules that were already covered under Concise Introduction Course. For more details, write to admin@eambalam.com
Sign In
/
Sign Up
OR