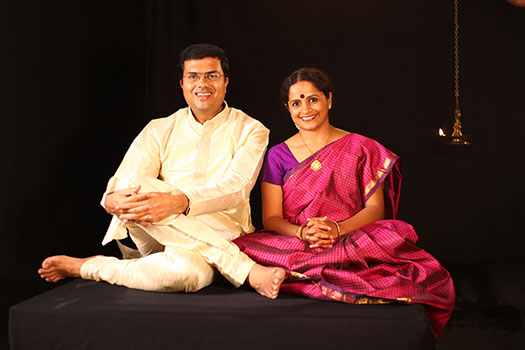 26 years back when Ambalam was formed in Bangalore, the idea was to share the classical traditions to students in a pristine form. We first offered Carnatic Vocal and Bharatanatyam. We conducted several workshops by eminent teachers for students from other schools too. We had annual Music and Dance festival "Parampara" for established artists to interact with upcoming artists and "Aarohana", a festival exclusively for upcoming artists. We travelled regularly abroad for performances and to impart music and dance education through intensive workshops.
17 years back Ambalam started actively engaging in Wellness education whereby Yoga and other martial arts were introduced to students along with Music & Dance in Chennai.
4 years back, we launched eAmbalam, the World's First Online College of Indian classical music and dance with Yoga; A community portal known as SaMaaGaMA was also launched parallely with a vibrant community of over 17000 members worldwide having access to our free eAmbalam radio, Akash Sabha (workshop and performance videos of eminent artists), blogs on Indian art & culture, etc., ; A two day annual event in chennai during December was launched hosting free workshops and performances by eminent artists as part of the community outreach programs. www.eambalam.com / https://www.eambalam.com/samaagama/
2 years back, we launched Life Art Education program, India's pioneering K-12 life skills program for schools using music, dance, yoga and personality development as part of the curriculum. www.lifeart.education
In November 2015, eAmbalam launched yet another unique wellness vertical with online courses in General yoga, Therapeutic Yoga, Yoga for dancers, Yoga for musicians. Along with this, several new offerings in music and dance were offered on a platform which is multi device friendly.
Welcome to eAmbalam, Education through Arts at its best !
Related Terms: