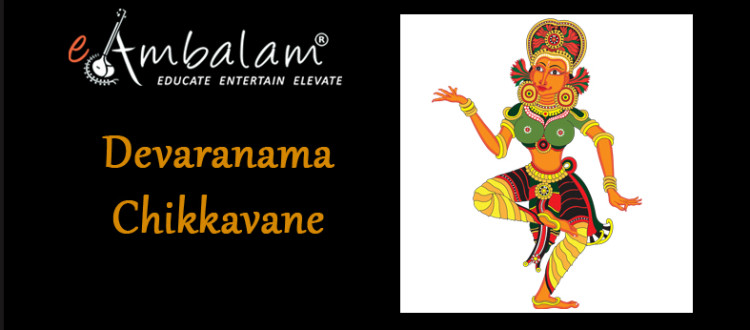 Price: 275 USD

Devaranama – Chikkavane
Devaranama "Chikkavane Ivanu" is a Kannada composition of saint poet Purandhara Dasa set to Ragamalika and Adi Tala. Gopikas are discussing among themselves " Is he a small boy?! He runs away without getting caught in our hands! The questions he asks and the things he does is unimaginable!"
In this course, students are provided with high quality step by step learning videos by watching which they learn the compositions and present it during one on one online class with the instructors. Audio downloads are provided to help the students in their practice. Course provides Lyrics & meanings PDF, About the composer PDF and Audio download for practice.
This course is for:
• A beginner student who wants to understand and learn well the art of expression
• A dancer who wants to enhance their skills in Abhinaya.
• A teacher who wants to study the art of Abhinaya in depth.
The course duration is for 6 weeks for each composition with 6 one to one online classes with the faculty. Before enrolling for the course, the students (16+years) & teachers are advised to send the video clipping of their practice or performance of a composition for the review and understanding of students needs by the faculty. They could email the video link to admin@eambalam.com
The course could be done with or without certification. The students who require certification for Level 1 should have completed learning all five compositions and have to take an assessment at the end of the course. Later, they could enroll for MCA, Level 2.
Those in the age group of 9 to 15 years are advised to send the video of their practice or performance to admin@eambalam. The faculty will review the video and if the student is eligible, they will be taken as one to one students, where age appropriate compositions will be taught.
Devaranamas (names of the God) were the Bhakti compositions that were the outcome of the Bhakti movement in South India, especially Karnataka during 13th century to 14th century CE, whose main objective was to promote "Dwaita" philosophy of Madhvacharya through literature. Though the compositions were mainly on the concept of Hari Bhakti and are about Hari or Krishna, a few composers also composed Devaranamas using social values, morals and virtues as a theme. Some Devaranamas talk about Krishna's plight with Gopikas, Gopika's plight with little Krishna, and so on. The language is simple and compositions are sung in medium pace. Haridasas' compositions are so emotional that any one can be moved to tears. Their language is the language of music, which takes the individual above the Immanent to Transcendental.
Sign In
/
Sign Up
OR