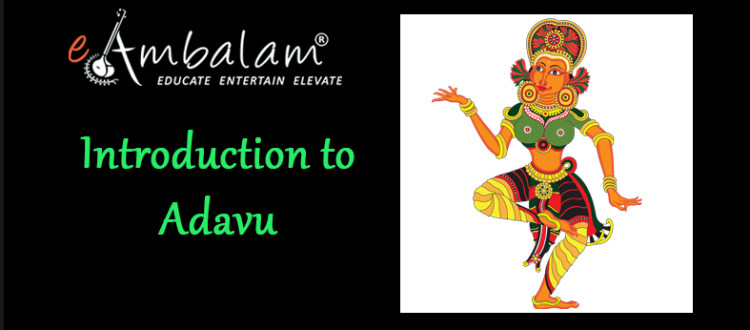 Price: 150 USD

Introduction to Adavu
Adavus are the first basic lessons that a student learns in Bharathanatyam. Adavus are the beautiful co ordination of footwork and body movements performed in different speeds. Adavus form the pillar for the structure of Bharathanatyam and hence it is of utmost importance for the students to understand the intricacies of Adavus in depth. Before the students even begin to learn Adavu, they need to understand about Ideal Body Alignment, basic postures, hand gestures, basic foot positions, Bhoomi Namaskara, etc., So, this course provides a perfect introduction to the Adavu.
In this course " Introduction to the Adavus", consisting of 6 modules, students
Read about 'Understanding Adavu'

Learn 3 basic postures and few Basic foot positions,

Understand the meaning of Shloka and learn to recite few Shlokas that are sung before we begin our practice,

Understand the meaning of Bhoomi Namaskara, – the salutation to the Mother Earth and learn the Bhoomi Namaskara, that every student has to do before & after every practice

Learn variations of Head, Neck and Eye movements under Bhedhas

Learn Hasthamudhra, the hand gestures

Understand the three basic Natyarambha positions
Students are provided with high quality Step by Step learning videos by watching which they learn the lessons and present the same during one on one online class with the instructors to enhance their learning.
The course duration is for 6 weeks. If students wish to extend the course duration, they can do it by paying a minimal fee. They could write to admin@eambalam.com for more details.
The Modular courses in Adavu is for you if you are:
A beginner student interested in learning the Adavus of Bharatanatyam in depth in modular format.

A dancer interested in understanding & improving the nuances of the particular group of Adavus in modular format.

A teacher interested in strengthening the intricacies of the Adavus of your choice in depth in modular format.
The students, who are beginners, are advised to take up these modular courses in the following order so that they could understand the link between each modular course. Those who are already learning and those who are teaching can take up any module as per their requirements. But, please note that Adavus learnt in the following sequence would be more beneficial.
Adavu Introduction

Thattadavu

Nattadavu

Kudhitthamettu

Thattumettadavu

Kuttadavu

Nadai & Sarukkal Adavu

Paraval Adavu & Vees Adavu

Bhramari Adavu

Mandi Adavu

Theermana Adavu

Theermana Adavu – Thahatha jhumthari tha

Theermana Adavu – That dhi tha combination

Karthari & Katthi Adavu

Paichal (Uthplavana) adavu

Korvai Adavu

Peri Adavu & Ettadavu
The course could be done with or without certification. The students who require certification should have completed learning all 18 modular courses and have to take an assessment.
As a continuation of this course, students could enroll directly to Basic diploma in Bharathanatyam or other short-term certificate courses. For details, write to admin@eambalam.com
Sign In
/
Sign Up
OR