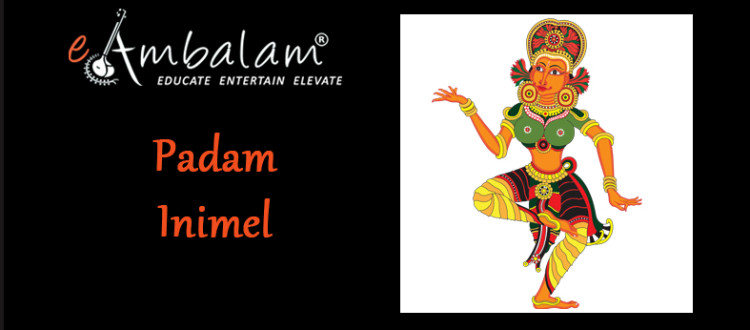 Price: 275 USD

Padam – Inimel
In this modular course, you will learn a Tamil Padam " Inimel Avarukkum yennakkum". Inimel Avarukkum is a Tamil Padam composed by the poet Kavi Kunjara Bharathi in Raga Bhairavi set to Tala Mishrachapu. Here the Nayika says to her friend "Hence forth even if Lord Muruga comes to me on his own accord and talks to me nicely, our relationship will not workout anymore even for a moment. Please leave."
Basically, Padam is a musical monologue, which resembles a keertana in structure and propagates the sentiment of love for God through the innumerable aspects of Nayika–Nayaka bhava. It is a scholarly composition with a perfect blend of Musicality and Lyrics. The mood of a particular context in a Padam is usually complex and is the resultant of various circumstances and problems of emotional nature. Most Padam compositions deal with the theme of love with ample scope for varied treatment and the Ragams (melody) has been composed as to suit the theme and the context.
In this course, students are provided with high quality step by step learning videos by watching which they learn the compositions and present it during one on one online class with the instructors. Audio downloads are provided to help the students in their practice.
This course is for:
• A beginner student who wants to understand and learn well the art of expression
• A dancer who wants to enhance their skills in Abhinaya.
• A teacher who wants to study the art of Abhinaya in depth.
The course duration is for 6 weeks for each composition with 6 one to one online classes with the faculty.
Before enrolling for the course, the students (16+years) & teachers are advised to send the video clipping of their practice or performance of a composition for the review and understanding of students needs by the faculty. They could email the video link to admin@eambalam.com
The course could be done with or without certification. The students who require certification for Level 1 should have completed learning all five compositions and have to take an assessment at the end of the course. Later, they could enroll for MCA, Level 2.
Those in the age group of 9 to 15 years are advised to send the video of their practice or performance to admin@eambalam. The faculty will review the video and if the student is eligible, they will be taken as one to one students, where age appropriate compositions will be taught.
Abhinaya
Abhinaya is 'the art of expression', which is very unique to all Indian classical dance forms. The meaning of the lyrics of the song that the dancer dances to is conveyed to the audience with the help of facial expressions, hand gestures and body movements and this is called Abhinaya. Padam, Javaḷi, Shloka, Bhajan, Aṣhṭapadhi and Devaranama are some of the main compositions that belong to the Abhinaya section in Bharathanatyam. There are thousands of compositions written by several composers encompassing varied human emotions that are universal in nature.
Modular courses in Abhinaya are part of the main course 'Master classes in Abhinaya Level 1', where there are 6 modules consisting of 5 compositions, each of which varies in language, theme, Raga & composer. There are 3 Padams, 1 Javali and 1 Devaranama in "Master classes in Abhinaya" Course.
Sign In
/
Sign Up
OR