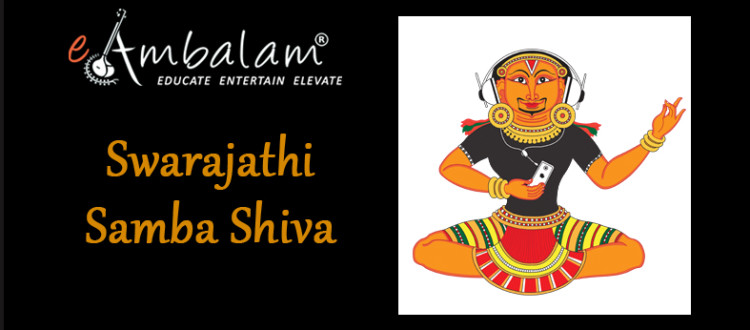 Price: 200 USD

Swarajathi – Samba Shiva (Female Voice)
Swarajathis are pleasing melodies and more sophisticated than Geeethams. These are songs are very popular with early learners and children as they are very lively in their rendition. They have a Pallavi and a few Charanams. The Charanams are generally rendered once as Swaras and the second time as lyrics. Some Swarajatis also have an Anupallavi incorporated in them. Many Swarajatis like the sublimely devotional of Shyama Shastri are concert worthy.  Samba Shiva is a very popular Swarajathi in Raga Kamach or Kamas set to Adi Tala, a composition of Chinna Krishna Dasar. The poet asks us to pray to Lord Shiva, who resides in the silver mountains, the snow-clad Himalayas. Pray, "You are my guru and God. I meditate on you at all times. I never forget that you are the treasure of compassion"
Students are provided with high quality in depth step by step instructional videos, watching which they learn and present the same during one on one online class with the instructors helping them to enhance their learning. Audio downloads, Shruti downloads, Notations, Glossary and PDF's are provided to help the students in their practice. Students will have online assessments at the end of every module.
This course is for you
If you have a firm grip of the fundamentals of Karnatic music inclusive of the Swarasthanas and want to progress towards the other portions of Kalpitha Sangeeta (composed music).

If you have learnt classical music and are specifically looking for Swarajathi to add to your repertoire.

• If you are looking for a lively composition for a first time performance, which sounds like a complex composition.

If you are a Bharathanatyam dancer and are eager to learn to sing Swarajathi to add sheen to your performance
This is a 6 week course with 6 one to one online sessions with the faculty. If students wish to extend the course duration, they can do it by paying a minimal fee. They could write to admin@eambalam.com for more details. This course can also be taken up as modular course where students can choose to do the compositions one at a time in their convenient time & place.  Swarajathi course could be done with or without certification. Students willing to have certification will have to take up assessments at the end of the course.
Sign In
/
Sign Up
OR